Joey Gottesman

By
.(JavaScript must be enabled to view this email address)
Friday - December 16, 2005
Share
|

Del.icio.us
|

Podcast
|
WineAndDineHawaii.com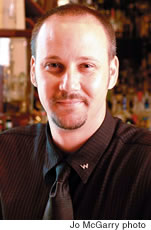 Joey Gottesman
Occupation: General manager/bar manager/bartender, Diamond Head Grill
What is a mixologist anyway?
A mixologist is a fancy way of saying bartender. Nowadays, it refers to a bartender who has an extensive drink repertoire.
How did your interest in spirits begin?
I was really lucky to have worked with David Brown, the GM of Mariposa, and Heath Porter, our former GM here at the Diamond Head Grill. Dave inspired me to learn my spirits, and Heath built a great wine program here for me to work with. If you're going to hang out with these two, you had better know your stuff and have something to add to the discussion.
What makes a good bartender?
A good bartender will be quick, accurate, personable, clean and be able to multi-task with an even temper. Great bartenders, on the other hand, will do the above plus be able to offer a wine and cocktail pairing to go along with their guests' meals. Great bartenders will be able to remember your name and your drink sometimes years after your last visit. The best bartenders will be knowledgeable and be able to discuss wines, Scotch and potent potables.
Is that the same as a good mixologist?
In my opinion, you cannot be a mixologist without first being, at least, a good bartender.
After that, the study of how to make new and innovative cocktails is a continuing process.
What's your favorite cocktail?
I am not one to play favorites.
Cocktails for me are driven by mood and situation. I have always loved Jack Daniels and single malts. When I'm mixing for myself I always keep it simple.
Can you pair food with cocktails or are they strictly before and after events?
Indeed, you may. Here are a couple examples of some classic cocktail with food pairings: Margaritas and just about any spicy Mexican food; barbecued ribs and a Jack and Coke (Manhattans also work well).
What's new and exciting for the holidays?
Alize flavors and champagne. Beautifully flavored liqueurs added to bubbly to give a delicate fruity accent and complement the color themes associated with the holiday season.
How does a person even begin to know which vodka to drink nowadays?
I always recommend my personal favorite, Hangar One Vodka. The Hangar One straight is what I prefer. It's not overly distilled, and it has a slightly floral finish to it. Hangar One also makes, in my opinion, the finest flavored vodkas on the market today. Buddha's Hand (citrus), Mandarin Blossom, Kaffir Lime and Fraser River Raspberry - all naturally flavored vodkas with no artificial finish.
Always in your fridge?
Haagen Dazs chocolate ice cream.
Most like to have a cocktail with (living or dead), and why?
I would most like to have a cocktail with Ernest Hemingway - not to discuss his life or any of his books, I'd really just want to personally thank him, mano a mano, on behalf of every bartender in the state of Hawaii for introducing the Mojito from Cuba to the United States.
Most Recent Comment(s):