Joey Gottesman

By
.(JavaScript must be enabled to view this email address)
Friday - January 30, 2009
Share
|

Del.icio.us
|

Podcast
|
WineAndDineHawaii.com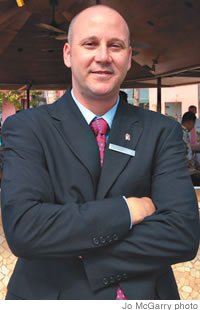 Job Title:
Beverage manager, Royal Hawaiian, A Luxury Collection Resort
I don't think that title really describes what you do, Joey.
Not really. (Laughs). I'm also the general manager of the Mai Tai Bar, and I'm putting together beverage programs for catering, in-room dining, Azure restaurant, The Surf Room and out here at the pool. And I'm happy to assist other (non-conflicting) bars and restaurants in my position as mixologist, especially for charity events.
What is it that appeals to you so much about a life behind bars?
It's about creating an experience for someone who walks up to your bar or into a restaurant. I think you can create a culture at a hotel like this, where you can have bartenders/bar chefs re-energized and giving guests something they will remember.
How do you pick the perfect cocktail for someone?
You first have to determine what the person needs and wants. Then it depends on the time of day, on what they usually drink and on how much they've already had!
We're having cocktails at one of the great spots in Waikiki right now.
Yes. The Royal Hawaiian has been here since 1927. Being part of the reopening is about being part of the history in Hawaii. It's an iconic property.
Where do you like to go when you're not here in the bright sunshine?
I like to go to dark, dank places where I can just have a cocktail and be quiet!
Drink of choice?
Jack Daniels or Gentleman Jack.
Straight up?
I like it straight up, I like it on the rocks, I like it with Coke, I like it with a splash of water ... I like it on Cheerios. (laughs).
How do you start to become a mixologist?
Learn the right technical skills first. You need to be able to pour accurately and then get the terminology down. It's like the kitchen: Good chefs have a passion for making food; good bar chefs have a passion for cocktails.
What's a cocktail you'd make for me?
Well, it's a slightly overcast day, so I'm going to be safe and say Lagavulin with a splash of water.
Good choice, Joey.
Most Recent Comment(s):