John Hightower

By
.(JavaScript must be enabled to view this email address)
Friday - February 24, 2006
Share
|

Del.icio.us
|

Podcast
|
WineAndDineHawaii.com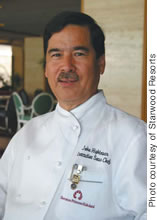 John Hightower
Title: Executive Sous Chef, Sheraton Princess Kaiulani Hotel
Age: 57.
First professional cooking job?
My first cooking job was at the NCO Club on Hickam Air Force Base in the '60s. When I took the job, I thought it would be temporary, assuming that in no time I would be drafted and headed to Vietnam. While working there, an acquaintance told me that he thought I was good enough to work in Waikiki. I applied and was hired as assistant cook for the Sheraton Princess Kaiulani.
Who has influenced you most in your cooking career?
There's not really one person who has made me the chef I am today. It's more that every chef I've worked with has taught me something that I've been able to incorporate into my culinary style. I've worked beside some really great chefs, who have all helped me develop.
Favorite dish at your own restaurant?
My favorite dish at the Pikake Terrace is the Fiery Spiced Pasta Tubes. We take penne pasta and toss in chicken and spinach sautéed in Korean chili sauce.
Favorite dish at another Hawaii restaurant?
The Ginger Crusted Onaga or the Kiawe Wood Grilled Mahimahi at Alan Wong's.
What's always in your fridge?
I always have fresh fruits and vegetables, kim chee and tengu.
Favorite late night snack?
Usually fresh fruit. Favorites include nectarine, mango or apple.
Who would you most like to cook dinner for (living or dead)?
I love cooking for my family, because I know how much they appreciate it. I also enjoy cooking for our guests at the Sheraton Princess Kaiulani Hotel. I have worked for the hotel for 37 years, and it has always been a priority for our culinary team to ensure we provide our guests with the best dining experience. Whether it's altering an existing dish on our menu or creating something special, we do everything we can to accommodate our customers.
What ingredient can you not live without?
Shoyu.
How would you describe your cooking?
International.
Describe your restaurant to someone who hasn't been there before.
The Pikake Terrace is an open-air restaurant with a casual and relaxing atmosphere. Since we are reasonably priced, we attract a lot of locals in addition to visitors. We have nightly Hawaiian entertainment performed poolside by local artists including Sean Na'auao, Sam Kapu III and the Ka'ala Boys, to name a few.
How do you relax when you're not in the kitchen?
I spend time at home with my family.
Most Recent Comment(s):