Jon Kobashigawa

By
.(JavaScript must be enabled to view this email address)
Friday - July 21, 2010
Share
|

Del.icio.us
|

Podcast
|
WineAndDineHawaii.com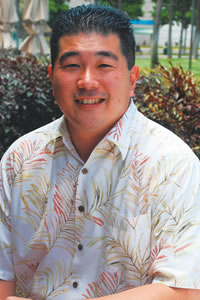 Occupation: General Manager, Ruth's Chris Waikiki.
Where were you born and raised? Born and raised in Kaimuki. Went to Iolani and then graduated from the University of Washington.
What started your interest in the food and beverage industry? It was always a second job through college, and I kept returning to it when I needed to.
First job in the industry? At Sam Choy's Diamond Head. I was one of the first bussers when the restaurant opened. Eventually a management position opened up after I'd worked my way through the ranks.
What do you like about F&B? Dealing with people is great. I've always been a foodie and I'm very interested in new foods. The whole thing of seeing people happy and enjoying a meal is great.
How about when guests are not happy - which happens at the best restaurants on occasion? Helping people enjoy their restaurant experience is about finding out what they want and then going above and beyond that.
What's your favorite dish at Ruth's Chris? Bone-in New York strip.
Do you cook at home? I try
What's always in your fridge? Some kind of fish or poke.
With whom would you most like to have dinner at Ruth's Chris? Pat Bolan, the Denver Broncos owner who has a home here - he actually comes in to the restaurant from time to time. I've been a Broncos fan all my life. I'd probably talk his ear off and wouldn't want to mix business with pleasure!
Advice to anyone wanting to start in the restaurant business? Starting from the bottom is probably the best way to go. It helps to have a degree in business, but learning all the different positions really helps.
Anything about you that might surprise people? I have a degree in fish-eries management and worked at Oceanic Institute with the aquaculture program. I've always been big on fishing. Before my son was born, and before becoming a restaurant manager, it was something I really enjoyed!
Most Recent Comment(s):