Jon Schwalbenitz

By
.(JavaScript must be enabled to view this email address)
Friday - December 08, 2006
Share
|

Del.icio.us
|

Podcast
|
WineAndDineHawaii.com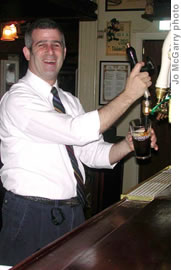 Jon Schwalbenitz
Jon Schwalbenitz is a bartender at one of Honolulu's most popular bar/restaurants. Here he talks about the people in his profession who have an ongoing influence, the upside of his job, and why he'd like to have Babe Ruth at the bar.
Occupation: Bartender, Murphy's Bar and Grill
Where were you born and raised?
Born in New York City and raised in New Jersey, the home of Rutgers University.
How long have you been in the business?
More than 20 years. I started bartending in college. It was fun and a good way to meet girls and pay for my own beers.
Like to name anyone who's been an influence professionally?
Well, there are a few people. My brother Ira, for one. He's a graduate of the Culinary Institute of America who opened his own restaurant. I worked with him for a while and he certainly was an influence. In Honolulu, I'd say that Guy and Gerry (bartenders) from the Chart House have impacted me professionally; and right here at Murphy's, there's Chad and Wayne.
What is it about bartending that appeals to you?
You never know what's going to happen. You don't know what to expect each day - and there's always something different. The characters and personalities you meet on a daily basis keep life interesting.
(Jo's note: As if to uncannily illustrate his point, the kitchen door at Murphy's swings open and Alex the chef stands in silence, staring at Jon and pointing upward to one of the HD screen TVs above his head. The screen shows that Rutgers has just been beaten in a four-hour triple-overtime battle with West Virginia to end its Big East Conference championship bid. No words are spoken between bartender and chef. After a moment Alex returns to the kitchen and Jon to pulling a pint.)
You always seem pretty upbeat. Is there a downside to your job?
Yes, working with Chad. (laughs) If there's a downside it's that in a place like Murphy's you become very close to customers and very involved in their lives. When they experience loss and tragedy, then you do too.
Where's your favorite place to eat?
Chart House - sitting at the bar watching the bartenders work, enjoying a cocktail and great pupu - there's nowhere like it.
I also like Alan Wong's, and I love what they're doing at Town and 12th Avenue Grill.
What's always in your fridge?
Lots of beer that's not available in Hawaii. I just got back from Minnesota with a substantial amount of beer and wine that you can't find here.
Got any good bartending advice?
My brother's advice is still my favorite. Keep the ashtrays empty and the glasses full. And look out for your customers. Accommodate their needs and really listen to what they want.
With whom would you most like to enjoy a cocktail at your bar?
Babe Ruth, I hear he was a real hoot at the bar; wine authority Jancis Robinson and my mom.
Most Recent Comment(s):