Kaleo Adams

By
.(JavaScript must be enabled to view this email address)
Friday - December 08, 2010
Share
|

Del.icio.us
|

Podcast
|
WineAndDineHawaii.com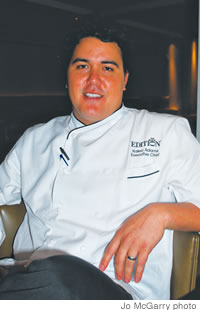 Kaleo Adams
Age: 32
Occupation: Executive Chef, The Waikiki EDITION
Where were you born and raised? Wailuku, Maui.
What started your interest in cooking? I started out in the industry after high school. I was lucky enough to meet Jordan Nagasako, owner of Nagasako Fish. I started out by packaging and delivering fish to restaurants and hotels around the island. The fish cutters were awesome there, so I learned how to cut all local fish. I did this until the urge to be in the kitchen was overwhelming.
First job in the industry? Cook 4, on-call position at The Grand Wailea Hotel, Resort and Spa.
How do you describe your cooking style today? Modern American with subtle Pacific Rim influences.
You recently returned to Hawaii to begin your new position at The Waikiki EDITION. Were you surprised at how far the farm-to-table movement has come? Yes! And I feel that it is so important for a lot of reasons. Chefs need to have a relationship with farmers. I now go to the farmers market at KCC, which I think is amazing. It's just not so easy to get through the crowds when you are trying to buy stuff for a hotel. I also think it is important that people know where their food comes from and who it comes from. We need to have that connection.
Do you cook at home? Yes, but my wife is probably a better home cook than I am.
What's always in your fridge? Champagne, some kind of German beer … I like the smaller bubbles. I am a sucker for cheese.
Favorite local restaurants? Ramen Nakamura for oxtail ramen, V Lounge for pizza. Town, because it's ingredient-driven. Kohnotori for izakaya. Tonkatsu Ginza Bairin for the obvious.
With whom would you most like to have dinner, and where? Both of my grandfathers. I never knew my dad's father, and my mom's dad was a chef. I would love to be able to pick his brain.
You have several dining outlets at The EDITION. Which is best for lunch? I enjoy the Private Sunset Beach under the umbrellas with the sand in your toes.
Most Recent Comment(s):