Keith Kiuchi

By
.(JavaScript must be enabled to view this email address)
Friday - March 23, 2007
Share
|

Del.icio.us
|

Podcast
|
WineAndDineHawaii.com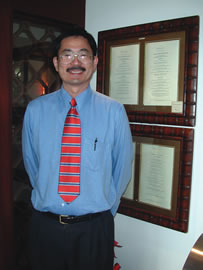 Keith Kiuchi
Keith Kiuchi has a lot on his plate these days. In addition to chairing the KalihiPalama Health Center board as the center expands, the Honolulu-based attorney, who is also a part owner of the BLIMPIE franchise, is taking on a project with two of the city's best chefs. Philippe Padovani and Donato Loperfido will open 'Elua in May, under the watchful eye of Kiuchi.
Age: 51
Occupation: Attorney and co-owner of the new 'Elua Restaurant & Wine Bar. I'm also responsible for the wine list at 'Elua.
How did you get involved in the restaurant business?
My law partner and I bought the rights to the BLIMPIE Subs and Salads chain in Hawaii in 1997. We thought that even though we were attorneys, we could do a better job than the previous owners. I was asked to do legal work for Chef Philippe and Chef Donato because we owned the BLIMPIE chain in Hawaii and thus had some knowledge of the restaurant industry.
Have you always been interested in food?
Yes. I started cooking when I was in the Boy Scouts, and ever since then I've been interested in cooking.
Do you cook much at home?
Yes, I usually do the cooking at home. I love trying new and different recipes.
I know you're a great wine lover. What sparked that interest?
Buying a small book called Hugh Johnson's Pocket Encyclopedia of Wine so I wouldn't look like a clod when I ordered wine when I went out for dinner at a restaurant. That book really got me interested in trying different wines. It's funny going from a small pocket encyclopedia to running Philippe's wine list, which at one point had more than 800 different selections.
Anything you're particularly proud of in your cellar?
I've got a 1970 Latour, a 1984 Chateau Montelena Cabernet and I really enjoy the bottles of Peter Michael Chardonnay that I get from the winery.
Where do you like to eat in Honolulu?
Anywhere that Donato Loperfido and Philippe Padovani are cooking!
Favorite dishes at any of those places?
With Donato, his mushroom risotto. Absolutely the best mushroom risotto anywhere. With Philippe, his salmon confit, a dish that literally melts in your mouth.
Describe 'Elua to us.
A dynamic restaurant, with menus that change depending on seasonal availability of local produce. True to their background, the dishes created will rely upon European-trained skills of both chefs, but will use the best of Hawaii's flavors. Imagine trying dishes from two quality chefs in appetizer portions and having that dish paired with specific wines. A place with a lot of energy and life. Good food and good wine should be celebrated with passion and verve.
Most Recent Comment(s):