Keith Koehler

By
.(JavaScript must be enabled to view this email address)
Friday - October 13, 2006
Share
|

Del.icio.us
|

Podcast
|
WineAndDineHawaii.com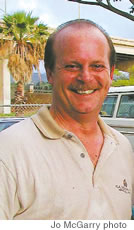 Keith Koehler
Keith (Bud) Koehler is the Director of Food and Beverage at The Ala Moana Hotel. The hotel has recently undergone a multi million-dollar renovation, and has added a new lounge area and bar. It is also home to Hawaii's largest and most popular Oktoberfest. Koehler has been in the food and beverage industry since high school, and talks here about some of the people who've influenced him - and why he'd probably be a police officer if he weren't in the restaurant industry.
Name
Keith (Bud) Koehler.
Title
Food and Beverage Director
Where were you born and raised?
I was born in Dearborn Michigan, and raised in Plymouth, Michigan.
What started your interest in the food and beverage industry?
I moved to Arizona after leaving high school and my first job was washing dishes and delivering pizza. That was the beginning of it all.
The Ala Moana Hotel has gone through some big changes this year - can you tell us a little about them?
All the guest rooms have been sold as Vacation Rental but we still operate as a hotel. Each guest room has been completely renovated. Right now we're in the middle of finishing up the common areas, like the lobby and the new bar. We expect everything to be complete by the end of November.
What are some of the changes at the hotel that you think people will notice most?
Most likely the newly renovated lobby, the banquet area - and we've done renovations to the ballroom too.
You just celebrated the 36th Oktoberfest - why do you think so many people come back year after year?
Our guests always have a great time. We've had the same band from Germany fly in for 36 years, the food is always great - and we have a huge variety of imported beers. It's a combination of all of these things that makes it so successful, I think.
Who's had the most influence on your career so far?
Two people had a significant influence on my career. The first was my first boss, Leon Quiniville. Ted Sakai was also a great influence.
Who'd you like to invite over to Plantation Café for dinner and why?
Would have to be my mom. She never made it out to Hawaii and it would be great to have her come in and sit down with me and have dinner.
What's always in your fridge?
Chocolate chips for making cookies
Where do you eat when you're not at work?
L&L drive in or Zippys. I love the garlic chicken at L&L and the won ton min at Zippy's.
Favorite late night snack?
A bowl of Grape Nuts with strawberry yogurt.
What do you think you'd be doing if you weren't in the food and beverage industry?
I'm pretty sure I'd have been a police officer!
Most Recent Comment(s):