Keith Mallini

By
.(JavaScript must be enabled to view this email address)
Friday - March 18, 2009
Share
|

Del.icio.us
|

Podcast
|
WineAndDineHawaii.com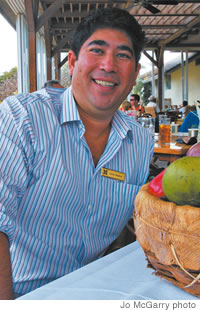 Title: Food and beverage director, Hana Hotel Maui
Age: 42
Where were you born and raised?
New Orleans. My father was from there and my mother is from Manoa. I grew up traveling between both places.
What got you interested in the F&B world?
My Aunt Annie owned a restaurant on the Mississippi Gulf Coast that was started by her mother in 1928. Annie's was a really busy, popular restaurant in Pass Christian. I saw the hard work and the passion she put in and knew that one day I wanted to do the same. Sadly, Annie's was washed away by Hurricane Katrina.
What is it about the industry that appeals to you?
Despite the long hours and the high stress, at the end of the day, over a glass of wine, looking back on all of the "situations" that were handled is rewarding. I like the problem solving, the getting through the day and doing it well, the people ... it's a very rewarding industry to be part of.
You're working at one of the most isolated places in Hawaii. What's the attraction?
Hana is truly heaven, especially after Waikiki. The peace here cannot be described. It's magic.
Where do you eat when you're not working?
At home or at the beach. Simple food. I love anything with noodles.
What's always in your fridge?
Champagne Rose.
With whom would you most like to have dinner at Kau'iki (the hotel restaurant)?
Generally speaking, anyone interested in experiencing something totally unique and anyone with an open mind about food and wine. Specifically, winemaker Michael Rolland. His approach to winemaking is similar to our culinary philosophy here at the Hotel Hana Maui. It's based on the earth and refined only by natural instinct and genuine experience.
Most Recent Comment(s):