Keith Ogata

By
.(JavaScript must be enabled to view this email address)
Friday - March 11, 2009
Share
|

Del.icio.us
|

Podcast
|
WineAndDineHawaii.com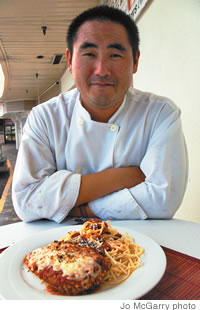 Executive Chef, Lily Koi Restaurant and Lounge
Where were you born and raised?
I was born and raised in Kaneohe, went to Castle High and graduated from Kapiolani Community College.
I know you worked with some notable culinary names in Las Vegas.
I worked in a few places here and in California, and then I started working for Joachim Splichal, and he sent me around the country - eventually to Pinot Brasserie at The Venetian.
What did you learn most working with Joachim?
Organization, for one thing. He taught me to be ready for everything. I also learned a lot about flavors - which ones truly go well together and which don't.
How do you describe the food at Lily Koi?
Different! It's a mix of French, Californian and Hawaii.
What does that mean to someone looking at the menu?
There are sauces and cooking techniques that are classically French; there are flavors and a style that are Californian; and there are the Asian influences and local flavors of Hawaii.
Give me an example of a dish that represents Lily Koi.
The rack of lamb - it's pan-seared and then finished in the oven. People have either read about it or have seen someone else order it. I get a lot of people asking for it at lunch, even more at dinner. It's become like our signature dish.
What's your favorite late-night snack?
Frosted Flakes.
What's always in your refrigerator?
Eggs ... and milk for the Frosted Flakes.
Is there anyone you'd like to cook for?
Both of my grandfathers. They never really got a chance to see me cook at this level.
Lily Koi Restaurant and Lounge 98-150 Kaonohi St., Aiea 486-8488 -Jo McGarry
Most Recent Comment(s):