Kellie Harris

By
.(JavaScript must be enabled to view this email address)
Friday - September 01, 2006
Share
|

Del.icio.us
|

Podcast
|
WineAndDineHawaii.com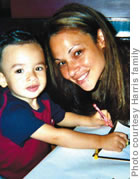 Kellie Harris
Kellie Harris (pictured here with son Hunter) is the general manager of Compadres Bar and Grill at Ward Centre. Here she talks about what makes Compadres a great place to take the family, and why servers love to work there.
Age: 32
Where did you go to school?
Maryknoll High School.
What started your interest in the restaurant business?
I started my career at Bank of Hawaii, but was working part-time at Compadres. That's when I learned that being in the restaurant business was my goal. I enjoy working with people, and in the restaurant business customer satisfaction takes on a very personal level, especially when dealing with families.
Who has influenced you most in your career?
Rick Enos, owner of Compadres. He emphasizes family values in the restaurant and makes all of us feel like family. My goal is to incorporate that standard in dealing with employees, vendors and customers.
You've been with Compadres many years and combine family with work. Tell us about that.
My husband Les is a Honolulu firefighter. He's also a musician and is half of Kalaeloa, the duo he has with Taz Vegas. They play at the restaurant once a week, so I get to see my husband at work! We also have a 3-year-old son, Hunter, who, like all kids, loves to come to Compadres.
Some of your favorite Hawaii restaurants?
Besides Compadres? Les, Hunter and I like to go Outback Steakhouse in Hawaii Kai near our home. We also like California Pizza Kitchen in Kahala Mall because it's also kid-friendly.
Favorite dishes there?
At Outback, I always eat the fresh fish of the day, Les likes the prime rib and Hunter eats macaroni and cheese (what else?). At CPK, he eats macaroni and cheese. And at Compadres? Hunter eats chicken and rice, and loves our nachos.
Are you always "working" when you eat out?
Yes. That's just part of the business that's embedded in you. And Les always asks me things like "Is this a good waitress?" or "How's this place doing?" We have our favorite servers, for example, and we ask for them.
Do you cook at home?
Yes. I like to bake a lot so I make things for the family, like seasoned baked fish or chicken. And since Les is a firefighter, he likes to cook, too, and has his own specialties.
What's always in your fridge?
Milk.
Favorite late night snack?
Reese's Peanut Butter Cups.
What do you think is the biggest mistake restaurants make?
Not enough employee training. Sometimes we have staff who leave to try the newest restaurants - and you'd be amazed sometimes how rapidly they return to work here!
Best part of your job?
I love to see people have a good time eating, leaving happy and seeing our employees deliver!
Most Recent Comment(s):