Kelly Degala

By
.(JavaScript must be enabled to view this email address)
Friday - June 23, 2006
Share
|

Del.icio.us
|

Podcast
|
WineAndDineHawaii.com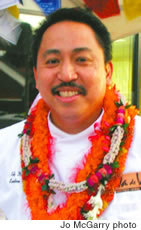 Kelly Degala
Kelly Degala, a graduate of KCC, opened Gordon Biersch here before leaving to become its corporate chef on the Mainland. Today he heads the culinary team at the wildly successful Va da Vi in Walnut Creek. His new cookbook, Va da Vi is available in bookstores. Here he talks about his love of Hawaii products and why lumpia and pork adobo are on the menu in one of San Fransisco's hottest restaurants.
Name:
Kelly Degala
Occupation:
Executive Chef Va da Vi restaurant, Walnut Creek.
Where did you go to school?
I grew up in Kalihi and I went to UH with no clear idea of what I wanted to do. I thought about engineering or maybe architecture. I eventually left and started working in kitchens, before going to KCC and graduating from there. Before I realized it, I was a chef.
What took you from Hawaii to the Mainland?
I worked at The Alana Hotel before opening for Gordon Biersch at Aloha Tower. Within a year or so they offered me the position of Corporate Chef and that meant a move to the Mainland.
What do you miss about Hawaii?
One thing I miss is the seafood. I use mahi mahi andonaga among the fish dishes on the menu and it all comes from Hawaii. My tuna is always expected to be of the highest quality - the No. 1 grade, so naturally that comes from Hawaii too. I have it flown in and deal directly with a local supplier. I miss the greens too - I talked with Dean Okimoto on this trip home and he said he may be able to start shipping. If that happens I'll create a dish in honor of him!
Do you still make your fabulous Thai seafood curry from the early days at Gordon Biersch?
Yes! It's on the menu at Va da Vi. It started originally with grilled mahi mahi served over garlic fried rice with a red curry sauce. Today I make it with Alaskan halibut and top it off with a papaya mint relish. The papaya is Hawaiian, of course. It's still one of the most popular dishes on the menu.
How do you describe your cooking nowadays?
Well, I call it global cuisine. A lot of the menu features dishes from all ethnic backgrounds. We serve a rock shrimp avocado lumpia, pork adobo, pork belly. The menu features dishes from Spain, Italy, Portugal, Japan, France. It incorporates a lot of my experiences in Hawaii. The thing about growing up in Hawaii is that you're exposed to so may ethnic cultures. Other chefs have to study them, learn how to cook them, but for us, we're exposed to the different styles and cultures every day.
What influenced your cooking style in the early days?
My background is Chinese-Filipino-Japanese, so that's a huge influence. I'd say that all the ethnic restaurants and cooking styles have had an influence. Today I'm experimenting with Latino flavors and Portuguese dishes and lots of Italian and French dishes.
At Va da Vi you serve "small plates." What's a small plate?
It offers a different way of dining. About 5 bites of one dish. Any more than that and it's a full entrée, and less than that it becomes a tapas dish or a pupu. We make the plates so people can share different tastes - and we have a wonderful wine selection at Va da Vi - so that's always fun. A small plate is like a miniature meal.
Who would you most like to see at Va da Vi for dinner?
My mom. She would get a kick out of the cooking. She always said she could never picture me as a chef - even when I was one. I'd love to show her what we're doing now. She passed away three years ago.
Most Recent Comment(s):