Kelly Sanders

By
.(JavaScript must be enabled to view this email address)
Friday - August 04, 2010
Share
|

Del.icio.us
|

Podcast
|
WineAndDineHawaii.com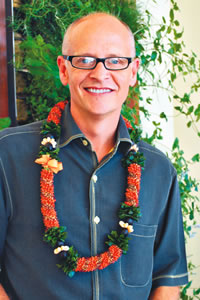 Title: General Manager, Sheraton Waikiki
Where were you born and raised? Pocatello, Idaho. People are always a little shocked, but growing up in a small town and working summers on the farm really prepares a person for life and understanding what hard work is all about.
What got you interested in the food and beverage world? After college, I partnered with three of my friends and we picked up a restaurant in Sonora, Calif. We did so well that eventually we picked up three restaurants in Texas and then opened one in Salt Lake City. It's funny now to look back on those days, being 23 years old, working 18- to 20-hour days. The passion and excitement of creating something that people love was what made it all worthwhile, and everyone loves food, so it worked.
How do you approach a new project? Are you a bigger picture or details guy? With the revitalization of Sheraton Waikiki we had to look at the bigger picture and how we would create the new "soul" of Sheraton Waikiki. In the beginning we settled on three key words that would guide us as we re-created this amazing new resort. Those words were "Contemporary," "Sophisticated" and "Hawaiian."
Do you cook at home? Being single, it is tough to cook for one, and running the resort leaves little time to really keep the house stocked with fresh food.
What's always in your fridge? Cheese, fruit ... snacks really. I am a healthy eater, so never junk food.
Favorite restaurants when you're not at Sheraton? Honestly, I have three: First I love Azure at the Royal Hawaiian (and not just because it is another Starwood Hotel). The food and service are amazing and I think they have truly created something very special. Next, Le Bistro (Niu Valley) - I love it! From the amazing cuisine to attentive service, it is always a treat. And can't get enough of Thai food, so at least once a week you will find me at Phuket Thai.
With whom would you most like to have dinner at Kai Market? I think it would be amazing to have one large dinner party with people who represent the seven cultures that Kai features. It would be amazing to enjoy the food, but also to talk story about the old plantation days and the history of Hawaii.
Most Recent Comment(s):