Kelvin Ro

By
.(JavaScript must be enabled to view this email address)
Friday - December 09, 2009
Share
|

Del.icio.us
|

Podcast
|
WineAndDineHawaii.com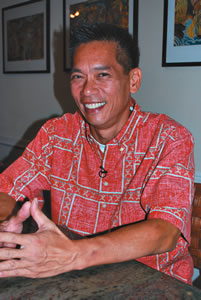 Occupation: Owner Diamond Head Market and Grill, and Chef Instructor, Kapiolani Community College
Where were you born and raised? I'm a Wahiawa boy. Went to Waipahu High School and graduated from UH with a business degree.
How did you get into the F&B industry? By an unconventional path: My first restaurant job was as a waiter when I was 18. My family owned a restaurant on Kauai and I'd go to spend summers there when I was younger, and my cousin is Glenn Chu (owner of Indigo Restaurant). At that time he owned RoxSand's Patisserie, which at the time was the big thing. So I was exposed to catering and to culinary arts early on.
When did you start at KCC? In 1999 - I began as an instructor, but right now I'm more involved in raising money for the two-year program and the four-year culinary and hospitality programs. We've raised more than $1 million for the two-year program through the fundraiser Ho'okipa.
Diamond Head Market is such a vibrant, busy neighborhood hangout, but unless you've heard of it, you'd never know you were here. (Laughs) Yeah, we remain a word-of-mouth, hidden secret. We rely entirely on customers spreading the word. I always wanted this neighborhood feel to the store, and I think we've achieved that.
And there are two parts to your business. Yes, there's the "grab and go" in the market with the bakery and the deli, and then above the store is our fine-dining area where we cater, do food-and-wine pairings and private parties.
What are your favorite restaurants? Le Bistro, for any of their fish preparations, escargot and their apple tart. And I really like Happy Day in Kaimuki. It's the only place outside of Chinatown where you can get a wide variety of dim sum and exotic Chinese cuisine. I think the half moon is the tastiest in town.
Do you cook at home? Very little, since I'm cooking all day at work. I mostly cook breakfast. The rest of the time I'm eating food from the market and grill.
What's always in your fridge? Fruit preserves and homemade jams. Right now there's blackberry and blueberry jam, and strawberry guava jam from the Big Island that Sam Choy made - it's my favorite. And there are lots of take-out packages from Diamond Head Market. I need to monitor quality and standards daily.
With whom would you most like to have dinner? Barack Obama, Oprah Winfrey, Magic Johnson and Anderson Cooper.
Anything about you that might surprise people? I'm a "backyard" horticulturist. I have a bonsai collection with about 100 bonsai trees, an exotic palm collection, bromeliad collection with about 100 varieties and a ti leaf collection with more than 100 varieties. I recently landscaped my yard mixing the disciplines of Japanese and Hawaiian gardening.
Diamond Head Market and Grill 3158 Monsarrat Ave. 732-0077
Most Recent Comment(s):