Ken Kihata

By
.(JavaScript must be enabled to view this email address)
Friday - June 06, 2008
Share
|

Del.icio.us
|

Podcast
|
WineAndDineHawaii.com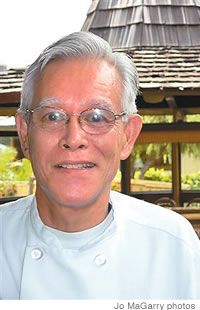 Occupation:Sushi chef, Pagoda Hotel and Restaurant, Honolulu.
Age: 63
Where were born and raised? Tokyo, Japan. I came to Hawaii in 1970.
What started your interest in cooking?At a young age, I took an interest in cooking Japanese food. I was fortunate to train with some of the better sushi chefs in Japan, and I started young. I enjoyed the challenge of learning about sushi. My first job was in a Japanese restaurant called Yoshikawa, where I cooked entrees as well as sushi.
What is the most important thing to know about making good sushi?The most important thing is the rice, because if the rice is no good, everything is no good. Rice is the foundation of sushi.
What do you most enjoy about being a sushi chef?I enjoy meeting people, and when they love what I make, it's very gratifying
Where do you like to eat when you're not working?I like to try different restaurants - there's no specific place that I enjoy best. I like to try all the new restaurants.
What is always in your fridge?Meat, veggies and lots of sake!
Do you cook at home?My wife usually cooks at home, but if we have guests, I will cook. My favorite dish, which I love to cook, is nabemono.
Who would you say has had the most influence on your career? My wife's father is a ranked sushi chef in Japan. He has been a big influence on me, and he's the reason I've been in this field for almost my entire life.
Favorite movie: No particular movie, but I love Westerns and Japanese mystery movies.
Favorite book:I mostly buy and read cookbooks, but I enjoy reading Japanese mystery books, too.
Are there any new dishes you'll be creating at the Pagoda that we should try? Yes, besides the sushi rolls that I prepare fresh daily, I also make nishime, oden and seafood motoyaki. I like to listen to what customers want, so I'll cook things that will keep them coming back.
Pagoda Hotel and Restaurant 1525 Rycroft St. 941-6611 www.pagodahotel.com
Most Recent Comment(s):