Kenwei Chong

By
.(JavaScript must be enabled to view this email address)
Friday - December 02, 2005
Share
|

Del.icio.us
|

Podcast
|
WineAndDineHawaii.com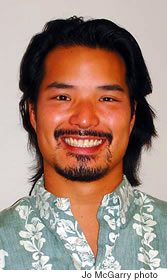 Kenwei Chong
Title: Partner, E&O Trading Company
Age: 37
How did you become involved in the restaurant business?
I figured capital markets and storage, my two previous occupations, were not risky enough!
Actually, it came about through a longtime friendship with two of my partners, Chris Hemmeter Jr. and Rodney Loo, both from Hawaii, and a decision to finally take an active role in business that I believed I was passionate about. I was right.
How do you describe the food at E&O to people who've never been?
E&O Trading Company is a Southeast Asian grill - a restaurant where we feature hardwood-grilled foods, and we bring together all the cuisines of Southeast Asia under one roof. Our dishes are inspired by the many flavors and ingredients of the region, although some reflect more creative interpretation than others.
With whom would you most like to have dinner at the restaurant?
I spent 15 months traveling around Southeast Asia, trying to immerse myself in the cultures of the many countries. One of the ways I befriended many locals was to cook for them dishes that I learned from the previous countries visited. Cooking together was a means of communication and sharing. I would enjoy having a particular handful of families that I cooked with into the restaurant - the Nepalese family that taught me their family recipe for dal bat and pumpkin stew, the Indian couple in
Varkala, India, that I cooked coconut crab with, the Burmese monks who let me cook with them in their monastery, the family in Northern Laos that took me to their markets and let me assist in the preparation of a village feast.
I would enjoy sharing with them once again.
Who has influenced you most in the food and beverage business?
My father, for always being so creative with whatever he had available to cook with. My mother for only knowing how to cook three dishes, which forced me to cook and build an appreciation for different types of food.
What's your favorite restaurant in Hawaii, other than your own?
Day to day: The Mandarin Chinese Restaurant and Imanas Tei. Special occasions: La Mer and Alan Wong's.
Favorite dish there - or at another Hawaii restaurant?
I love the hot and sour soup from The Mandarin Chinese restaurant. I have been eating it since I was about 6 years old. I crave the Chanko Nabe at Imanas Tei at least once a week.
Tell us about the décor at E&O.
Each of the E&O Trading Company restaurants follows a different theme - with each theme being inspired from a different time and place in the E&O story. San Francisco is the Trading Warehouse, San Jose the Financial Center, Marin County the Phuket retreat, and Honolulu the Outdoor Asian Marketplace. Therefore, the Honolulu restaurant is inspired by the indoor/outdoor structures of a marketplace, with varying rooflines, glowing lanterns that light the "streets," and the tapestries, wares, large umbrellas and foods found in marketplaces throughout the region. We purchased many of the arts and artifacts in Asia and had them shipped back. All of our furniture was purchased from our friends at SoHa - they could build it better and at a lower cost than most mainland vendors.
How do you relax when not at work?
Get home and be with my three girls (Florence, my wife, and Amber and Alexa, our daughters). On the rare occasion, I get in the water for a paddle or out on the golf course.
Most Recent Comment(s):