Keri Endo

By
.(JavaScript must be enabled to view this email address)
Friday - January 25, 2012
Share
|

Del.icio.us
|

Podcast
|
WineAndDineHawaii.com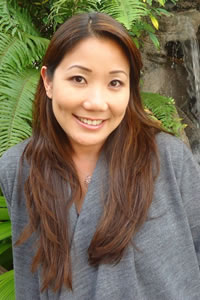 Keri Endo
Catering Director, The Willows
Where were you born and raised? Born and raised here in Honolulu, Aiea High School grad.
What made you want to pursue a career in the food industry? You know, I really just fell into it in the beginning. I started, like a lot of people do, working in restaurants and not really thinking about what the next step would be. I loved meeting people right from the beginning, and always thought the industry was so much fun. But it was when I came to Willows that I realized I was committed to making this a career. The Willows gave me such a great opportunity. It's exciting to be building something.
You seem like the perfect person to handle weddings and catering. People really need someone enthusiastic and organized to help them through major occasions. Yes, it helps! I love working with people, and we can do so many different things, from simple, simple ceremonies with just a few people and flowers, to really big events. I feel that if people just want a little help we respect that. If they need more, we step in and take over.
I would be so bad at your job! It's so tough to deal with people when you're handling such important events. (Laughs) It is stressful! But it's so much easier when you understand that expectations are high. Once you've mastered that it's a big help. And of course you have to be really detail-oriented. We work so closely with people we end up as their friends and they trust us. Do you cook at home? (laughs) No! I don't even know when I'm going to be home. What I do is always make breakfast and if I'm going to be home, then I shop for fresh ingredients for dinner.
What's always in your fridge? Nothing (laughs). Not very much ... there's always wine, because I love wine. And breakfast staples.
Favorite restaurants? Well, we do love the Willows! But my 9-year-old daughter and I also love to go to CPK, and I love Formaggio. I recently got my daughter hooked on Mariposa. We went to celebrate my birthday and she keeps asking to go back.
With whom would you most like to have dinner? I would love to have dinner with Top Chef's Padma Lakshmi. I think she would be really interesting to talk to and to eat dinner with.
Anything about you that would surprise people? No. Everyone knows I'm a control freak, so that's no surprise!
What's the one thing you'd like to tell guests if you could about planning a celebration? That you shouldn't be afraid to ask for help. And that it's OK to trust someone else. It really eases the stress.
What's your favorite thing on the Willows menu right now? Chef is making some changes right now, so we're looking forward to trying his new dishes, but I can eat the chicken long rice every day.
Most Recent Comment(s):