Kevin Parkhurst

By
.(JavaScript must be enabled to view this email address)
Friday - November 25, 2009
Share
|

Del.icio.us
|

Podcast
|
WineAndDineHawaii.com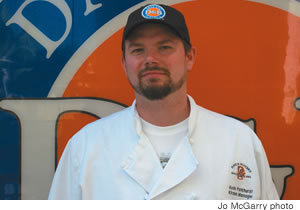 Job Title: Kitchen Manager, Dave and Buster's, Ward Entertainment Center
Where were you born and raised? I was born in Connecticut and raised in Kansas City.
How did you end up in Hawaii? My wife is from Hawaii and she wanted to come home, so three years ago we came back to live here.
What started your interest in the food and beverage industry? When I was 17 I was basically living on my own, and so I learned to cook to feed myself. I actually started a small pizza restaurant when I was 19. It failed, because of course we didn't know what we were doing, but it gave me a good sense of food, and I knew that's what I wanted to do.
So from there, did you go to school?Yes, I went to a Cordon Bleu school in Arizona.
How long with Dave and Buster's? I've been with them for over a year now.
How do you describe the food at Dave and Buster's? We have different food to suit the different atmospheres. There's bar food, there's a different menu up on the Sunset level, and here in the dining room there are quality dishes like grilled salmon, steaks, pasta - and we have a new range of pasta dishes. It's casual American fare.
This mac and cheese dish looks comforting. Yes! It's grilled, seasoned chicken breast and applewood-smoked bacon tossed with cavatappi pasta and a creamy aged sharp Cheddar cheese sauce. We top the dish with a Parmesan breadcrumb crust and bake it until it's brown and bubbly.
Do you cook at home? Yes, every day. My wife doesn't cook at all. I just use things fresh from the grocery stores, and pretty much decide on dinner that way.
What's your dream culinary job? That's a trick question! I am a classically French-trained chef, and in culinary school I got the chance to work with some great chefs like Alex Stratta. That was great.
What's always in your fridge? Milk and cereal - we have a baby - fresh vegetables and real butter.
Who'd you most like to see come in for dinner? (British chef) Gordon Ramsay. He's my hero. Sometimes the way he deals with people isn't that realistic, but I think he's a great teacher and a quick thinker. I would love to work with him - and cook for him.
Most Recent Comment(s):