Kwon

By
.(JavaScript must be enabled to view this email address)
Friday - May 18, 2007
Share
|

Del.icio.us
|

Podcast
|
WineAndDineHawaii.com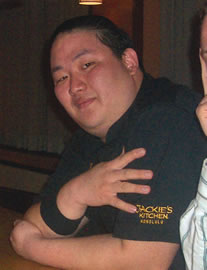 Kwon
For someone who once had aspirations for a career outside of the restaurant industry, things are sure going well for Kwon, a manager at Jackie's Kitchen in Ala Moana Center.
Age: 28
Where were you born and raised?
Honolulu
Was it always your intention to be in the food and beverage industry?
Not really. I was actually going into acting, theater work. I started off working at Chili's for five years. After leaving there, I came here (Jackie's Kitchen) to work as a server and gradually moved up.
Favorite dish at Jackie's?
Pad Thai with chicken and shrimp and the crispy skin chicken.
Who were your mentors? Who influenced you most in your career?
My inspiration to being successful is my parents. They came here from Korea not knowing a bit of English and started their own business.
What's always in your fridge?
Kim chee.
With whom would you most like to have dinner at Jackie's?
Jackie Chan himself.
Most Recent Comment(s):