Kyle Nakayama

By
.(JavaScript must be enabled to view this email address)
Friday - May 11, 2007
Share
|

Del.icio.us
|

Podcast
|
WineAndDineHawaii.com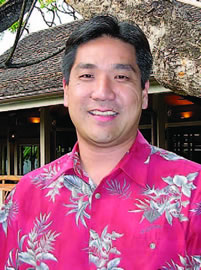 Kyle Nakayama
Name: Kyle Nakayama
Title: Managing director of The Willows
Age: 35
Where did you go to school?
Kailua High School and then to Kapiolani Community College.
First professional position?
Prep cook at Little Caesar's Pizza.
Who has influenced you most in your career and why?
Ted Sakai. He was the food and beverage director at the Hilton when I was there. He was a local Japanese man who worked his way up the corporate ladder the way I wanted to. One day after I got chewed out by his assistant, he called me into his office. I thought I would be reprimanded again, but instead we just talked story for about an hour, and he asked me my goals and ideas as he sat and listened. It was the most valuable hour of my life!
Favorite dish at The Willows?
The Prime Rib with Hawaiian Salt, Rosemary and Garlic.
Where do you like to eat when you're not working?
I love Japanese food, and I think Momoyama in the Sheraton Princess Kaiulani has some of the best.
What's always in your fridge?
Vanilla soy milk, flour tortillas and cheese. My 2-year-old demands it!
Favorite late night snack?
Zippy's burrito with chili, cheese and onion.
With whom would you most like to have dinner at The Willows?
Arthur Blank, founder and CEO of Home Depot. I would love to pick his brain ... someone who has been so successful in so many different types of business must have awesome stories. It also does-n't hurt that he's the owner of the Atlanta Falcons!
The Willows is one of those Hawaii restaurants with great stories. Do you have a favorite?
We once had an elderly man come into the restaurant by himself, go to the buffet and fill his plate with nothing but rice and shrimp curry. He happily paid his bill and asked to see the manager. He told me that the curry was exactly as he remembered it, but he did have one complaint. He said that there were no mosquitoes or roaches flying around like in the "old days" when he used to come. Guess we can't please everyone!
Most challenging part of the job?
Living up to the expectations of the "old" Willows. The McGuire and Perry families, Randy Lee and all the past managers who ran the previous Willows from 1944 till 1994 set the bar extremely high. The Willows has so much history and tradition behind it in Hawaii, and to try to follow in their footsteps is not only an honor, but a tremendous challenge as well.
Most Recent Comment(s):