Kyle Reutner

By
.(JavaScript must be enabled to view this email address)
Friday - February 24, 2010
Share
|

Del.icio.us
|

Podcast
|
WineAndDineHawaii.com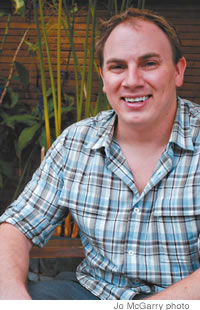 Job Title: Bartender, thirtynine hotel, Honolulu
Where were you born and raised? Colorado Springs
What started your bartending career? I was a busser at a restaurant, and they had a back bar that needed covering one night. It was the worst job in the restaurant, but I did it and decided that it was something I might like. I got my first real job as a bartender at a concert and loved it.
What is it that you love about the work? I think people underestimate how much fun serving people can be. I think that sometimes people can see a lot of negativity in the bar industry, but I spend each night helping people enjoy the party!
You make a great classic cocktail. What started your appreciation of these drinks and their history? It really started a little bit before here. I would go to Chuck's Steak House in Waikiki and the bartender there, Bob, made the best Manhattans. I started to appreciate that it was OK to avoid the sugary sweet stuff and to start drinking well.
Where do you like to go to eat and drink when you're not hanging out with the beautiful people here? Murphy's. It's my favorite bar in town. I go to watch baseball and sit at the bar. John is a great bartender, and it's a wonderful bar. And I love town (restaurant) and sitting at the bar there, where Dave is a great bartender. And I enjoy Lewer's Lounge (bartender Tim) and Nobu (bartender Dave Newman).
Who would you most like to see sitting at your bar? I guess Counting Crows - it is my favorite band - and I'd also like to serve some of the "cocktail" guys: Gary Regan, Murray Stenson and Dale DeGroff.
Do you cook when you're not drinking? Yes, I do. If you were coming for dinner, I'd most likely make homemade pasta with pesto and shrimp. I make a really good pesto.
And to drink? Definitely wine with dinner, not cocktails.
What's always in your fridge? Simple syrup, beer, bagels and fresh eggs.
What's your favorite bar gadget? A Misto mister that most people use to spray olive oil. I've filled it with absinthe and sprayed flames over cocktails, and I fill it with orange bitters to spray over the top of drinks made with egg whites.
What's your all-time favorite cocktail? The Honolulu Cocktail No. 2 - gin, Benedictine, maraschino liqueur. I try as often as possible to turn people on to it.
Most Recent Comment(s):