Laura Palace

By
.(JavaScript must be enabled to view this email address)
Friday - November 03, 2010
Share
|

Del.icio.us
|

Podcast
|
WineAndDineHawaii.com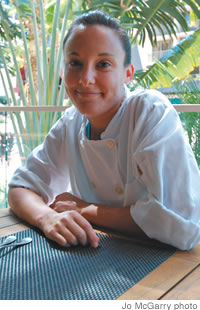 Occupation: Executive Pastry Chef, BLT Steak, Waikiki
Where were you born and raised? The Bronx, N.Y.
What got you interested in the food industry? My mom. She loved to cook. She was just such an inspiration to me. She still cooks, and she makes me compete when I go home - although she doesn't really know she does! She used to make this incredible chocolate cake. I can still remember eating it.
Where did you train? California Culinary Academy. I went to Boston College first, then culinary school, then I moved a lot for seven years working in restaurants.
Was pastry always your first love? Yes. As soon as I got a position in a French bistro, I knew that was exactly what I wanted to do.
What appeals to you about baking? I just love following a recipe and making sure it turns out perfectly every time. I love what we can do with chocolate, butter and sugar.
Do you cook at home? Yes. But my kitchen is too small right now.
What would you make if friends were coming for dinner? I like to do theme nights. I like to do Italian food: lasagna, stuffed shells ... Mexican food ... I did a Greek Christmas a few years ago ... anything that inspires.
What's always in your fridge? Twelve different hot sauce bottles, Vegenaise, really good bread and cheese.
For whom would you most like to create a dessert? My mom and my dad, because they've never really seen me at work here. And Derek Jeter, just so I could meet him ... and maybe woo him in.
Anything about you that might surprise people? I'm an identical twin. My sister and I went to the same college and majored in the same subjects.
Most Recent Comment(s):