Lee Takara

By
.(JavaScript must be enabled to view this email address)
Friday - March 25, 2009
Share
|

Del.icio.us
|

Podcast
|
WineAndDineHawaii.com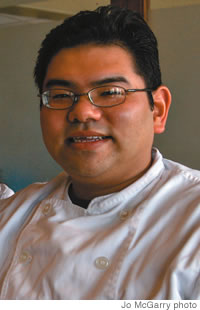 Title: Co-owner and chef, Kochi Restaurant and Lounge.
Where were you born and where did you go to school? I was born on Oahu and went to Hawaiian Mission Academy and University of Hawaii-Manoa.
Where did you learn to cook? I learned directly from my mom. Our family owns Gulick Deli, and we learned traditional Japanese flavors and cooking from her.
So is your mom a big fan of your food? She really likes the food, but she's not too keen on the fact that we have a bar within our restaurant! Even though we're a restaurant first, she's not happy that we have a bar, so she won't come in.
You've got some traditional Japanese dishes on the menu, contemporary dishes as well as a lot of local favorites. There's a really interesting mix of foods and flavors. We think the mix of our food is what sets us apart from most other places. We definitely have the Japanese flavors down - and we make all our own sauces from scratch. And where else can you get a teishoku with traditional flavors, poke and a loco moco or kurobuta pork?
You have to tell us more about that huge loco moco. It's not exactly a traditional-looking one.
It was inspired by my brother, and now people love it. When we were growing up, my brother would always eat the rice and the hamburger and the hash all at once. It came from there.
What's always in your fridge? Water. We're never home and we never have time to cook, so we pretty much only have cold drinking water in there.
Who would you most like to see come into Kochi for dinner? Oh, definitely my mom. She's my toughest critic. It would be great to have her come in and see what we're doing.
Kochi Restaurant & Lounge 1936 S. King St. 941-2835
Most Recent Comment(s):