Leigh Ann Seto

By
.(JavaScript must be enabled to view this email address)
Friday - November 14, 2008
Share
|

Del.icio.us
|

Podcast
|
WineAndDineHawaii.com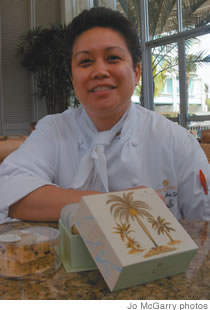 Where were you born and raised?
Honolulu.
What got you off the culinary path and onto the pastry one?
I always enjoyed baking as a kid. I went through the whole culinary program at KCC, but when I did my internship at the Hyatt Waikiki, I decided to focus more on pastry because it was fun and creative. I was in the pastry apprenticeship program for three years.
You've competed in those international pastry contests that most of us have watched on TV. You know, the ones where the cakes always take seven hours to make and then look like they'll fall over. Isn't that incredibly stressful?
Yes! I competed in international shows when I was a pastry apprentice, and I was the coordinator for Team Singapore during the World Pastry Team Challenge in Las Vegas. It's very stressful - you don't sleep, you worry about everything and then two years later it all sounds like a great idea again.
Do you bake differently for each restaurant at Kahala?
Yes. Plumeria has more of the traditional desserts that guests expect - and we try to make them a little more exciting - chocolate peanut butter mousse cake, for example, is a big favorite. And then Hoku's is more modern.
What's an example of a cutting-edge Hoku's dessert?
The Textures of Chocolate. There are nine pieces of chocolate in one serving - double chocolate chip cookie with macadamia nuts, chocolate fudge cake, white chocolate lilikoi cream, chocolate Earl Gray tea gelato, milk chocolate feuilletine ... People love it so much they won't share it with anyone else.
What's your favorite medium to work with?
Definitely chocolate. You can be very creative and make something that lasts a long time. Sugar is a great medium to work with, but it doesn't last as long. I can make Easter eggs from chocolate that will last a couple of years.
What's always in your fridge? Salad ingredients and water.
The Kahala Hotel and Resort 5000 Kahala Avenue 739-8888
Most Recent Comment(s):