Leland Nakakura

By
.(JavaScript must be enabled to view this email address)
Friday - November 28, 2008
Share
|

Del.icio.us
|

Podcast
|
WineAndDineHawaii.com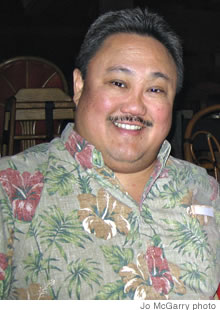 Job Title:
Key account specialist, Southern Wine & Spirits of Hawaii
Where were you born and raised?
Honolulu
What started your interest in the F&B world?
My first job as a busboy paid a lot more than minimum wage, so at that point in time, money was very interesting to me. Then my appreciation for good food and my interest in wines allowed me to pursue and continue my professional career in the industry.
You have an amazing ability to seek out great momand-pop places wherever you go. Are you always on the lookout for special places to eat?
Yes! It's easy to find the 3 Star restaurants with the $$$$$ next to them, but I love to find comfort food with outstanding quality, taste and value. Wherever I am, I like to ask the locals where they go and why.
What kind of food did you grow up eating?
Local, ethnic foods. My mother is a great cook and she could make everything except for liver. Everyone knows her for her salads, fish-cake, desserts and many other creative dishes.
One of your favorite restaurants?
Tommy's Joynt in San Francisco (Corner of Geary and Van Ness). The best pastrami sandwich I've had (lean, thick cut, tender and tasty). The Joynt has a great feel to it, and the prices are extremely reasonable. They also make some really good sweet and sour spareribs.
Can you share any memorable meals?
April 1999, while visiting a good friend of mine (Charley Yoshida) in Urayasu city in Japan. I was sitting on my very small bed in my very small hotel room having lunch with all different kinds of food items I bought from neighborhood shops. There were about seven items spread out in front of me that included salmon and konbu stuffed musubi from the corner musubi shop, warm takoyaki from the local cart, pork tonkatsu from a katsu shop, shrimp curry, teriyaki chicken sticks, gobo and some type of fish meatball. Everything was freshly made and delicious. The lunch cost me about $40, but I was in heaven!
And my son's first taste of pasta. I have that one on tape.
Do you like to cook?
Yes, I love to try to re-create dishes I've tasted from many local restaurants. I have all of the top local chefs' cookbooks on hand to experiment with.
Any wine or spirits recommendations for the holidays?
Seek out small grower/producer champagnes for outstanding quality and value. Look for producers such as Pierre Peters (Cuvee Reserve) or Henri Billiot (Brut Rose). Sake is hot! Come out of the box and try a delicious glass of cold sake. Delicious, refreshing, flavorful and great with foods. My favorites include Murai Family Daiginjo (Aomori Region) and a killer Junmai Ginjo from Yuki No Bosha (Akita Region).
Most Recent Comment(s):