Li May Tang

By
.(JavaScript must be enabled to view this email address)
Friday - November 11, 2005
Share
|

Del.icio.us
|

Podcast
|
WineAndDineHawaii.com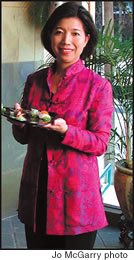 Li May Tang
Name: Li May Tang.
Occupation: Owner of Shanghai Bistro, Hong Kong Harbor View and Royal Yakiniku in Waikiki.
What's your business philosophy?
In running the restaurants, I believe in giving a lot of freedom to the people who work for me. I try to find what they are best at, and then find the right place for them within our restaurants. Many of our employees have been with me for 10 years or more.
What inspires the menu - particularly at Shanghai Bistro, where the food is a very eclectic mix?
I travel a lot and eat in all different places. In Taiwan, for example, food is like fashion: It's always changing and there is always something new to discover. I eat out a lot and I also read a lot of cookbooks and magazines. I have cookbooks mailed directly from Taiwan and Japan monthly and I buy every new cookbook! And our chef is always ready to try new things and brings a lot of experience to the kitchen.
What kind of rules do you impose at work?
Well, in the kitchen, we have strict rules for the staff. No gambling, no smoking - and no getting football scores on the phone when at work (laughs). I believe that people are best working when they just concentrate on the job in front of them and are not distracted.
Favorite dish at one of your restaurants?
I love our crab dishes at Shanghai Bistro, and I like the sake crab and drunken prawns at Hong Kong Harbor View.
Favorite dish at another Hawaii restaurant?
I love everything by Alan Wong. I'll eat anything he's created at his restaurant. I really enjoy his mini hamburger.
Who has had the most influence on your life?
My mom. My father passed away when I was 5 years old and my mom raised us. She was very devoted to taking care of us. She was an incredibly decent and kind person, and she was extremely patient. She influenced me a lot.
Do you cook at home?
Yes. I learned to cook several years ago and now I really can put out some very good dinners.
What's always in your fridge?
Milk and cheese and fruit - and my son loves steak, so there's always that.
Who would you most like to host for dinner (living or dead) at Shanghai Bistro?
My parents, of course, and my siblings - and I'd invite Alan Wong and his fiancée Alice. That would be a nice group to cook for.
Most Recent Comment(s):