Linda Yamada

By
.(JavaScript must be enabled to view this email address)
Friday - July 28, 2006
Share
|

Del.icio.us
|

Podcast
|
WineAndDineHawaii.com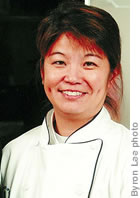 Linda Yamada
Linda Yamada is assistant professor/chef instructor at Leeward Community College. She is one of the few accomplished female chefs at work today in Hawaii, and her reputation for diligence and meticulous attention to detail is well-known in the industry. She worked at The Westin Kauai at the time of Hurricane Iniki and returned to Kaui several times to open restaurants that include Jean Marie Josselin's Beach House.
Where did you go to school?
I graduated from Waipahu High and then KCC.
How did you start in the industry?
My mom always told me to find a job that I liked and make a living out of it. I was going to be a CPA, but I was working at a snack bar and thought I'd like that more. I did some investigating and found out that chefs made a decent living, and then I applied to KCC.
Who influenced you most in your early years?
Probably my mom. We always had a home-cooked meal. You know, I don't remember ever going to McDonald's when we were kids. We never had fast food of any kind. My mom made everything from scratch and the flavors were different. She'd make meatloaf, hamburger steak, fried chicken and mashed potatoes. Simple food.
How about mentors from the culinary world?
They're all my mentors, these chefs. In the early years my instructor Robert Chinen and Faith Ogawa had an influence, but after that I worked beside so many people who were just really committed to the industry. In those early days I worked with guys like Wayne Hirabayashi and Edwin Goto. It was a growing period for all of us.
Was it tough in the 1980s and early '90s being one of the few female chefs in charge of a kitchen?
Oh, yeah. It was tough, but it just showed me that I had character and that I was committed to what I wanted to do. I tell my students today that it doesn't matter what other people think of you, it matters what's in your heart.
Did you make a conscious decision to leave "cheffing" and begin educating?
You know, when I was a chef I realized that part of the success of the kitchen was in the way I prepped and trained my staff. I guess I was already an educator right from the beginning, but working in the kitchen made me realize the importance of good training and great education. I guess it was just a natural progression.
Which job is more challenging?
They both have challenges! I think that there's more frustration as an instructor because you see the potential of a student, but you only have a certain time with them and you don't want to push them too hard. Sometimes by the time the semester ends they're just catching on. That can be frustrating. But the industry has its own frustrations too!
Do you cook at home?
Yes, I cook at home all the time. I make eggs Benedict where I julienne the ham and add Hamakua mushrooms. I make a pretty good osso bucco, too. Mostly it's just a question of opening the fridge and seeing what's there.
What is there?
Tofu, eggs and a whole bunch of fresh herbs - we have our own herb garden - and always butter. It's hard to cook without butter.
Where do you like to eat?
Side Street, of course! Pearl City Zippy's Sushi Bar is pretty good, and my husband really likes Hiroshi's - we both do.
What advice do you give to potential chefs?
I tell them it's gotta come from the heart. If it does, then everything else will fall into place no matter what.
Most Recent Comment(s):