Louis Barnett

By
.(JavaScript must be enabled to view this email address)
Friday - September 26, 2008
Share
|

Del.icio.us
|

Podcast
|
WineAndDineHawaii.com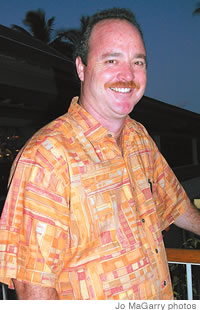 Title: General manager, Roy's Ko Olina
Where were you born and raised?
Sardis. It's a little town in Northern Mississippi, south of Memphis, Tenn.
Where was your first restaurant job?
After graduating high school in New Orleans, I worked in a restaurant called LeRuth's. It was a Mobil Five-Star restaurant serving European-influenced Creole food.
New Orleans is such a fun food city. It must have been a great place to work - and eat - in.
It was a great place to work - you'd work with incredible food all day and evening, and then when work was done there were always places to go to eat and have a good time. The people in New Orleans are so down-to-earth and friendly, and they love to cook and eat. Whenever you go to someone's home, there's always some great-smelling food in a pot on the stove.
How is Roy's Ko Olina different from Roy's Hawaii Kai or any of the other Roy's?
This restaurant is stylistically different from Hawaii Kai. It's larger, it's on a couple of different levels and we overlook the golf course at Ko Olina, so it's a little more casual. You can come dressed up for dinner or you can come dressed in shorts.
Is the food the same as the original Roy's?
Well, we have the classics like all Roy's restaurants, and then dishes are left up to the interpretation of our chefs. So like at any Roy's, you'll find some things that are a little different.
Where do you like to eat when you're not working?
Tokkuri Tei, town ... and La Mer once in a long while to revisit with my friends there.
Oh, that's right, you worked at La Mer for a long time.
Almost 15 years.
Do you miss it?
In a sense, but this is so much more relaxed, and I love being here and dealing with people - the whole Roy's way of doing things. The atmosphere is really amazing.
Who would you most like to see come to the restaurant for dinner?
Well, we enjoy the Pro Bowl players a lot. They're always good fun and they love to have a great time. They're good guests.
What's your favorite dish at Roy's?
The ribs. I used to love to make ribs at home, and my family loved them too, but one night I made the mistake of bringing home ribs from the restaurant and now I can't make them at home anymore, my family just wants to eat Roy's ribs.
Most Recent Comment(s):