Lydell Leong

By
.(JavaScript must be enabled to view this email address)
Friday - December 12, 2008
Share
|

Del.icio.us
|

Podcast
|
WineAndDineHawaii.com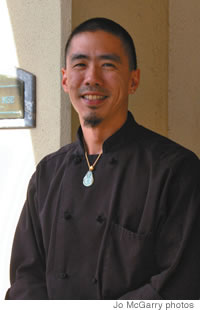 Job Title:
Chef de Cuisine, 3660 On the Rise
Where were you born and raised?
Honolulu. Went to Iolani and then graduated from KCC's culinary program.
How did your interest in cooking begin?
I grew up cooking with my mother and my grandmother. It was part of my job when I was young to help Grandma or Mom instead of watching TV. We went to my grandma's every day for dinner, and I always helped.
What did she cook?
Well, my grandma didn't drive, and my grandfather couldn't cook, so he'd drive to Chinatown every morning and buy whatever was fresh and after that it was up to her.
Any dishes that you particularly remember of your grandma's?
So much! She used to make this steamed pork hash with the water chestnuts and green onion, and halfway through the steaming she'd throw in an egg and scramble it. It didn't look good, but it tasted great.
You work in a fine-dining environment. Where do you like to eat?
My wife, Cheryl, and I have a baby now, so we can't wine and dine like we used to! Our daughter is 2, so that changes a little where we'll eat. Macaroni Grill is great and a huge favorite of our family. For the price, the food is awesome. We really love it there. A hot date for us involves taking our daughter along.
With whom would you most like to have dinner at 3660?
My grandma. I'd love to be able to cook for her again. She came to 3660 a few times before she died, but I'd still like to cook for her again.
How do you describe 3660 to someone who hasn't been there?
It's Asian fusion - I think most people know that - but we use Asian flavors in a style that local people know and recognize and make them a little fancier. Recognition is a big part of enjoyment with food.
What inspires you?
Technique. I read everything I can about new techniques and find them all fascinating. Simple, different ways to cook - like sous vide - are interesting additions to a menu.
Favorite dish on the menu at 3660?
The kurobuta pork belly. It's so simple and so good. Every bite is an explosion of flavor - and a little bit of fat!
What would people find surprising about you?
I love country music. It's weird, I know, but I've always been a country fan.
Most Recent Comment(s):