Lyle Matsuoka

By
.(JavaScript must be enabled to view this email address)
Friday - November 25, 2005
Share
|

Del.icio.us
|

Podcast
|
WineAndDineHawaii.com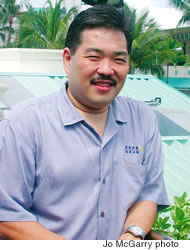 Lyle Matsuoka
Lyle Matsuoka is the general manager of Brew Moon Microbrewery Restaurant at Ward Centre.
He is a veteran of the food and beverage industry and spent many years as general manager of Auntie Pasto's before moving to the "The Moon" earlier this year.
Age: 44
Where did you go to school?
I attended Maryknoll High School and University of Hawaii-Manoa.
First professional position?
Dishwasher at my dad's restaurant, "Little George's," at the age of 13.
Who has influenced you most in your career, and why?
My father, "Little George" Matsuoka. He was the ultimate restaurant man - great with people; a virtual encyclopedia of food knowledge. He knew every facet about the business and made sure that I understood everything. He made me start as a dishwasher so that I would know what it felt like, and he also wanted me to experience every job position to get a better understanding of the industry.
Favorite dish at your own restaurant?
Pad Thai and Thai Beef Salad made by our Thai chef.
Favorite dish at other Hawaii restaurants?
Gyoza and Garlic Ahi at Irifune.
What's always in your fridge?
Ben & Jerry's New York Superfudge Chunk ice cream!
Favorite late night snack?
Ice cream, nothing but ice cream!
Who would you most like to host at dinner in your restaurant, and why?
Ray Kroc for his vision and entrepreneurial spirit ... because I've got a lot of questions.
Do you have a favorite Brew Moon story?
There are so many, but the one I was most happy to be a part of was helping a customer propose to his wife-to-be. He wanted everything perfect and asked me to present the ring with his dessert. It was a slow day, so they had an audience of my staff. They are now happily married with a little one on the way. I asked them not to name their child after one of our beers.
Best way to deal with difficult customers?
Listen to them and correct the problem. People just want to be heard.
Best part of your job?
Great people, meeting and talking to new faces every day. Also creating recipes for the restaurant and seeing it all come together.
Most Recent Comment(s):