Maka Kwon

By
.(JavaScript must be enabled to view this email address)
Friday - July 28, 2010
Share
|

Del.icio.us
|

Podcast
|
WineAndDineHawaii.com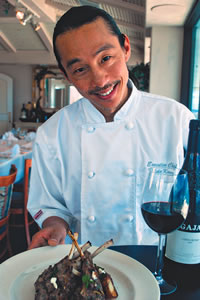 Executive Chef, Sarento's at the Top of The "I"
Where were you born and raised? I was born in Wahiawa. Went to McKinley High School, then culinary training at Gros Bonet in Honolulu. What is it that appealed to you about life in the kitchen? Being creative. You create things, you have fun, plus it's always exciting in the kitchen. All of that made it more attractive to me than working in the front of the restaurant.
What was your first job in the industry? Busser and waiter at Padovani's Bistro and Wine Bar. And I had various other jobs at Japanese restaurants, casual restaurants. I always wanted to work somewhere great, though, and I used to eat at Sarento's a lot, so I came and asked for a job. I started at Aaron's and then started to work for chef George Gomes opening up Sarento's on Maui. It was a great training.
How do you describe the food at Sarento's? Mediterranean with locally sourced foods. The owner Aaron Placourakis is Greek, so he loves foods with a Mediterranean flair. We have dishes with influences from Spain, Greece, Italy… I'd say people should try our steaks, fresh fish and hand-cut pasta.
What's your favorite dish on the menu right now? Our smoked salmon, it's light and different. And the fresh pasta. I like to make different pasta, and our house-made Italian sausage is a favorite too.
Who had the biggest culinary influence on you? George Gomes. He took me off the line and made me a prep cook and really taught me so much. Where do you like to eat when you're not working? Pho Huong Lan on Beretania. It's the best Vietnamese food - the pho is so great. I love it. When the chefs from our other restaurants on Maui come to town that's where I always take them.
Do you cook at home? If I do, it's barbecue. My son loves me to make hamburgers on the grill. So simple stuff at home.
Favorite kitchen implement? My knives. I couldn't really do anything without a good knife.
With whom would you most like to have dinner at Sarento's? My parents. They both passed away, but I'd love to have one dinner here to show them how far I've come.
Most Recent Comment(s):