Marcus Bender

By
.(JavaScript must be enabled to view this email address)
Friday - November 16, 2005
Share
|

Del.icio.us
|

Podcast
|
WineAndDineHawaii.com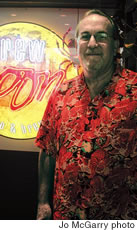 Marcus Bender
Occupation: Owner Brew Moon Microbrewery and Restaurant.
How did you start in this business?
There was an opportunity to acquire Brew Moon. I was interested in owning a brewery - I started in the beverage business importing Hinano Beer from Tahiti. Once I realized I was in the food business, I found I enjoyed the creative part of food development and applied my experience from eating around the world into the Brew Moon menu. It has worked out most of the time!
Who has been the greatest influence in your life?
My mother and father. They exposed me to wonderful experiences as a child.
Who would you most like to have for dinner at the restaurant?
My mother (deceased), as she would love to dress up and tell everyone at Brew Moon that I was her baby - and she'd have one great time. She would probably try to get on the stage and sing as she would when I was a youngster. She always told me how she sang on the radio when she was young. She loved life and gave me the gift of knowing that life is what we make of it and also what we share with others.
Favorite dish on the menu at your restaurant?
Spike Poke. I love Japanese food, and also love local food. Poke is the blend of both cultures and it goes with a cold beer very well.
How do you describe the food at Brew Moon to people who've not yet been?
We have a very diverse menu. Heavy pupu, salads, lots of fresh fish. We're big on flavor as our chefs are all local and understand what local people like: plentiful, big portions, good value - and enough to take home as leftovers.
Favorite dish at another Hawaii restaurant?
I have always enjoyed the Ginger Crusted Onaga and Asian Slaw at Alan Wong's.
Favorite Hawaii restaurant, other than your own?
I recently found Spices in Moiliili. The food is very fresh and authentic.
What's your favorite late night snack?
Chocolate sorbet, frozen Cool Whip and walnuts - in my easy chair with my legs up.
What's always in your fridge?
I always have peanut butter in the fridge and English muffins.
Most memorable meal?
Dinner with my daughter Amy at Coco's in Tahiti. A really authentic French Tahitian restaurant based in a home on the water. The food was something I'll always remember.
How do you relax?
On weekends, a trip to the Honolulu Club for a workout, then I usually end up at our pool with my son just talking story.
Most Recent Comment(s):