Marcus Bender

By
.(JavaScript must be enabled to view this email address)
Friday - July 13, 2011
Share
|

Del.icio.us
|

Podcast
|
WineAndDineHawaii.com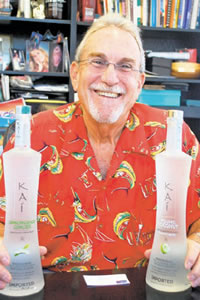 Occupation: Managing Director, Kai Vodka
Where were you born and raised? Los Angeles
You're well known for a number of successful ventures in the beverage industry, including Brew Moon and Hawaiian Springs. What started that interest? On a trip to Tahiti I met a couple of fellows who owned Brasserie de Tahiti and Hinano beer, and they asked me to import their beer to Hawaii. That led to Hawaiian Springs Water, Hanson's, Brew Moon and now Kai Vodka.
You've developed Kai Vodka into an award-winning spirit, and you have a new drink: Young Coconut and Lemon Grass Ginger Shochu. Shochu is the largest selling spirit in the world, and I came up with the idea to create a flavored shochu that would appeal to the American market yet keep the Asian flavors. It's lighter than vodka, made from rice, and at just 24 percent alcohol, it allows the flavors to come through.
What do you like to drink? I enjoy our 80 proof Kai vodka straight up with a couple of olives.
Favorite restaurants? I enjoy Tango, I love Nico's at Pier 38, I always enjoy Alan Wong's, of course, and I eat at home at lot!
What's always in your fridge? Fruits, vegetables and vodka.
With whom would you most like to have dinner? Ho Chi Minh and Beyonce.
Anything about you that might surprise us? (Laughs) I was a child actor and I was on a daily serial called The Mickey Mouse Club.
Most Recent Comment(s):