Marjorie Kubota

By
.(JavaScript must be enabled to view this email address)
Friday - June 08, 2007
Share
|

Del.icio.us
|

Podcast
|
WineAndDineHawaii.com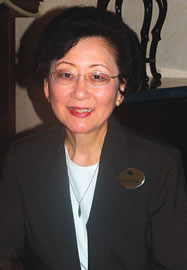 Marjorie Kubota
Marjorie Kubota is the manager of Musashi Japanese Restaurant at the Hyatt Regency Resort and Spa in Waikiki. She's a veteran of the food and beverage industry, having worked at various hotels and restaurants for more than 35 years, winning awards for her management style. Humble, unassuming and genuinely dedicated to service, Marjorie talks about what makes Musashi unique and about who she'd most like to see come for dinner.
Where were you born and raised?
Here on Oahu. I attended the University of Hawaii School of Travel Industry Management, and have been in the food and beverage industry ever since.
What sparked your interest in the restaurant industry?
Well, I love food - and I really do love to eat. So that brought me in initially and I just stuck with it from day one.
What is it about the industry that particularly appeals to you?
I love the service part of our work. I like to see the different personalities, I love to meet new people and I love the fact that every day is a new day with different challenges.
You seem to really connect with your guests, and treat them as if they are important to you.
You know, to me the No. 1 reason we are here is to make sure that the customers' needs are put before anything else. So when I see guests having a good time, then I feel as if I've accomplished something. Their experience really is very important to me. Perhaps it's my personality, but I do enjoy seeing people having a good time in our restaurants.
Why do you think, with all the different dining options in Honolulu, that so many local people are regulars at Musashi?
We have good food! And I think that we have something unique in that we have skilled chefs who are talented in cooking as well as in entertaining. The overall experience for guests is a very positive one.
How do you relax after a long night at Musashi?
I watch CNBC. It's on 24 hours and I catch up with news.
Mentors?
I find that I've learned something from almost everyone I've worked with. Every manager and director brings something different to the table, and I try to learn from that.
Who would you most like to see come to Musashi for dinner?
The president of the United States would be nice. It hasn't happened yet, but you never know.
Most Recent Comment(s):