Mark Ellman

By
.(JavaScript must be enabled to view this email address)
Friday - December 15, 2010
Share
|

Del.icio.us
|

Podcast
|
WineAndDineHawaii.com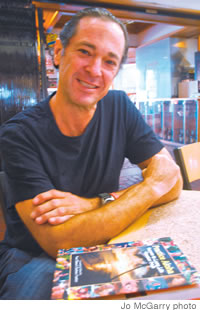 Occupation: Chef/owner Mala Ocean Tavern and Mala Wailea, Maui.
Where were you born and raised? Los Angeles. I came to Hawaii in 1985.
What started your interest in the culinary world? My dad was a wholesale meat salesman and he got me a weekend job flipping burgers at a place called Texas Tommy's. I loved it. You could eat for free and I seemed pretty good at it. I started at $1.25 an hour.
When you came to Hawaii you quickly became established as a popular chef. Yeah (smiles). I worked, as everybody does on Maui, for Bob Longhi. I had a great couple years working for Bob. Then we opened Avalon and shortly after started Maui Tacos in 1993. We had 20 stores before we sold the chain in 2009.
Is Mala the baby that you don't want to grow up? Yes, for many reasons. I love the fact that people in the community come in two or three times a week to feed themselves and they don't have to spend a lot of money.
You've always had a lot of strong celebrity support. Yeah, we've been lucky. At Mala we have Shep Gordon, Clint Eastwood, Alice Cooper, Don Nelson and a bunch of other good people. We're looking to open a kind of seafood shack next to Mala.
Do you cook at home? Absolutely. Our favorite dish is tarragon roasted chicken stuffed with lemon garlic and fresh tarragon. With some good crusty bread and a bottle of wine, it's perfect.
What's always in your fridge? Milk for coffee, Greek yogurt, good-quality cottage cheese, good dressings, fresh dates, raspberries and blueberries.
With whom would you most like to have dinner? Anthony Bourdain might be the most fun! His book Kitchen Confidential is not only fabulous, it is completely true. That book is every chef.
What might surprise people about you? I'm a yogi, and I'm practicing to be a good person every day!
Most Recent Comment(s):