Mark Taylor

By
.(JavaScript must be enabled to view this email address)
Friday - September 02, 2009
Share
|

Del.icio.us
|

Podcast
|
WineAndDineHawaii.com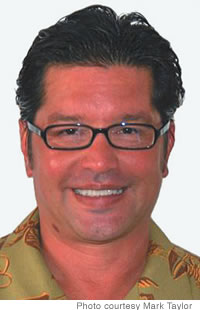 Title: General Manager, Bubba Gump Shrimp Company, Ala Moana Center
Where were you born and raised? In the valleys of Northern California - raised in Lake Tahoe, where my grandparents moved to from Kauai.
What started your interest in the F&B world? I wanted to buy a car when I turned 16 and had to get a job.
What's your earliest food memory? In the third grade, we had an "around the world food expo" and I was one of the few in my class who tried eel.
Bubba Gump's is unusual in that it emerged because of a movie. What's the full story behind the restaurant? Paramount Pictures was looking for great restaurant ideas. The people from The Rusty Pelican Restaurant Company happened to be doing regular shrimp fests and pitched the Bubba Gump theme. They partnered, and the rest is history.
Most popular dish on the menu? There are two brand-new items that are quite popular. One is our fresh pan-seared hebi on top of our famous mashed red potatoes and fresh sautéed spinach surrounded by a lobster butter sauce. The other is rigatoni tossed in a creamy sun-dried tomato pesto with plump, succulent shrimp, fresh spinach, tomatoes and fresh Parmesan.
How do you describe the restaurant to people who've never been?Bubba Gump's is a fun, interactive, kid-friendly environment with attentive service, a wide array of delicious food including fall-off-the-bone baby back ribs, and a great mix of exciting, signature beverages for both adults and kids.
Where's your favorite place to eat when not working? I do enjoy a big porterhouse with a bold Napa Valley Cabernet at Ruth's Chris Steak House.
Do you cook at home and, if so, what's your best dish? I love to cook, and one of my favorites is breast of chicken topped with chunks of crab meat, broccoli and béarnaise sauce with some type of wild rice.
What's always in your fridge? Wine, smoothie fruit ingredients for my wife and daughter, sour cream, salsa, avocado and tortillas because you can make tacos out of anything, anytime.
Have to ask your favorite movie ... I must say Forrest Gump is up there in the top 10, but my all-time favorite would fluctuate between Pulp Fiction and Braveheart.
Who'd you most like to see come into Bubba Gump's for lunch or dinner? Tiger Woods, President Obama or Jack Nicholson.
What about you might surprise people? I ran the Honolulu Marathon in less than four hours.
Most Recent Comment(s):