Mary Ann Bowman

By
.(JavaScript must be enabled to view this email address)
Friday - June 16, 2006
Share
|

Del.icio.us
|

Podcast
|
WineAndDineHawaii.com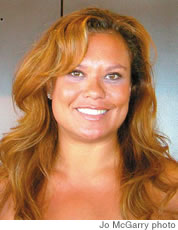 Mary Ann Bowman
Mary Ann Bowman is the restaurant manager at Longhi's, Ala Moana Center. She's one of those people you meet in the food and beverage industry with an incredible enthusiasm and a genuine passion for her work.
Name: Mary Ann M. Bowman Title: Longhi's Restaurant Manager
Age: 31
Where were you born and raised?
I grew up in north-central Washington in the small, beautiful town of Winthrop.
What started your interest in the industry?
Working at Sun Mountain Lodge, an exclusive resort, I realized how much fun it was to see people enjoy excellent food in a beautiful restaurant.
Who has influenced you most in your career?
Bob Longhi. He believes that if you are honest, and take care of people, you can't help but become a success. If something negative happens, he'll say, "don't worry about it so much, it's yesterday's pea soup; no good today."
Favorite dish at Longhi's?
I can honestly say that between the macadamia nut crusted opakapaka served over our Greek spinach salad, and the rib eye steak with balsamic reduction, I probably couldn't decide my "last supper." I just know that I would want my last meal to be any food from Longhi's!
Where do you go to eat when you have free time?
I love to eat at 12th Avenue Grill. There's just something about the good, wholesome recipes they use. The ambiance is also relaxing for me and I think the wait staff there is as incredible as ours.
Favorite dish there?
The cinnamon-braised short ribs over horseradish mashed potatoes!
What's always in your fridge?
Tabasco, Best Foods mayonnaise, and hummus from Down to Earth.
Favorite late night snack?
Any kind of cheese with chilled grapes.
What do you do to relax?
I like to grab a sandwich and a paper at the sandwich shop down the street from my house, then sit at a picnic table on the beach for a long, leisurely lunch.
Whom would you most like to host for dinner at Longhi's?
I would have loved to have had my late mom come for dinner, because she was a truly amazing cook. I believe that she'd be proud of the food that we serve. She was always into quality. Growing up we had fresh vegetables from her one-acre garden, and also raised our own chickens, cattle and pigs. Dad would get our bacon pepper-crusted and cut double thick! Our steaks were like 30-ounce cuts.
If you weren't in this industry, what do you think you would do?
There isn't a job in this world I would rather do. I majored in criminal justice, and worked as an intern in homicide at the Sacramento Police Department for two years. I had already passed my written and oral exams with the Los Angeles P.D. when I decided to take time off and move to Maui seven years ago - and started working at Longhi's!
I wouldn't change a thing about it. I could live like this for ever.
Most Recent Comment(s):