Matt Stephenson

By
.(JavaScript must be enabled to view this email address)
Friday - December 26, 2008
Share
|

Del.icio.us
|

Podcast
|
WineAndDineHawaii.com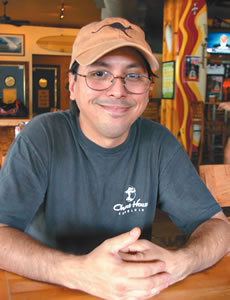 Age:
42
Title:
Executive Chef, Lulu's Surf Club Waikiki Beach
Where were you born and raised?
Honolulu.
What sparked your interest in F&B?
Some of my family had an Italian restaurant in Houston, and I would work there on my school breaks.
First professional cooking job?
I worked with Eddie Fernandez at Nick's Fishmarket in 1987 and Nick Sayada at the Black Orchid. They are my mentors.
Those are some amazing breakfast plates you put out at Lulu's. Which is the best seller?
The stuffed French toast with pineapple lilikoi cream cheese stuffing.
How do you describe your cooking and the food at Lulu's?
If I had a beach house, this would be my backyard barbecue.
Favorite places to go when you're not working?
I like all kinds of Asian food - and I really like the Banana Leaf Caf (McCully Shopping Center).
Favorite dishes there?
Mushroom risotto - and the bread is great.
Do you cook at home?
Hardly ever.
What's always in your fridge?
Kim chee, white rice and bok choy.
With whom would you most like to have dinner at Lulu's?
Chef Eddie and Chef Nick, to give back to them for the training they gave to me.
Favorite dish on the menu at Lulu's?
Our Surf 'n' Turf: fresh fish or tiger shrimp with a 10-ounce grilled chuck flat steak and garlic mashed potatoes.
What would most people find surprising about you?
That I have been in this industry this long!
Most Recent Comment(s):