Mattson Davis

By
.(JavaScript must be enabled to view this email address)
Friday - October 20, 2010
Share
|

Del.icio.us
|

Podcast
|
WineAndDineHawaii.com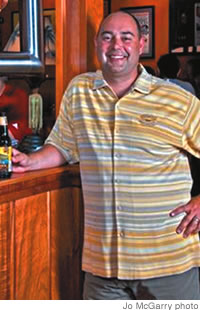 Age: 45
Profession: Executive management in the wonderful craft beer world (Kona Brewing Co.)
Where were you born and raised? Born in Milwaukee, raised in Spokane, Wash. I call myself a Northwest kid as I lived in Seattle and then Portland. But I've spent a third of my life in Kona!
What got you interested in the beer business? I was in Portland during the early days of the craft brewery revolution, working in the restaurant industry. During that time I served and learned a lot about beer. Oregonians are justifiably proud of their beer heritage.
Kona Brewing has been such a success story in a field that's very competitive. What are its strengths? A commitment to high quality, to supporting retailers and to the community. And we have always hired salespeople who can deliver our consistent message: Liquid Aloha, Always Aloha.
What people may not know, is how "green" a company you are. Can you give us an idea of some of the green technology you use day to day? We're Hawaii's only green-certified restaurant. We divert 90 percent of our waste, and we just installed a solar system that will give us 60 percent of our power needs. More than 75 percent of our produce at our restaurants comes from the state of Hawaii, and we brewed the first certified organic beer in Hawaii.
Is beer your drink of choice? Yes. Our Kona Longboard Lager is a favorite. What's always in your fridge? We have a kegarator (mini beer keg) with two Kona brews on tap - my wife's favorite beers are Fire Rock Ale and Black Sand Porter, so she takes the keg and we have Longboard Lager in the bottle.
With whom would you most like to sit down and have a beer? Barack Obama. I was fascinated how powerful a role beer played in his decision to meet with Harvard professor Henry Louis Gates and police officer Sgt. Joseph Crowley last year. I think the "beer summit" shows he is a master of communication.
Where do you like to eat when you're not at KBC? The Beach Tree at Four Seasons Hualalai for locally sourced items like Big Island beef. On Oahu, my favorite restaurant is 12th Ave. Grill, where Kevin Hanney makes an incredible sauce for pork with our Pipeline Porter.
Has anyone had an influence on your life thus far? Cameron Healy, founder of Kona Brewing Co. He's an excellent mentor, partner and friend. He's not one to give you the answer, but is willing to let you figure it out. Teach a man to fish ...
Anything about you that might surprise people? I enjoy taking high-performance driving school courses and collecting classic pens and watches.
Most Recent Comment(s):