Mel Tanioka

By
.(JavaScript must be enabled to view this email address)
Friday - December 16, 2009
Share
|

Del.icio.us
|

Podcast
|
WineAndDineHawaii.com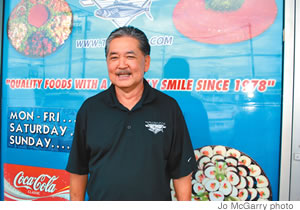 Title: Owner Tanioka's Seafood and Catering in Waipahu
Where were you born and raised? Wahiawa. I went to Leilehua High School and then University of Hawaii.
When did you open Tanioka's? In 1978 on Halloween day. We rented a 1,000-square-foot space, we had two helpers and some friends helping out along with my mom and my wife Lynn's dad. We paid $300 a month rent.
What made you choose fish as your business? All of our lives we have enjoyed fishing. My dad was part of the Haleiwa boat club, so growing up we were always around fishing. And I knew I wanted to open a business - I thought of two things, a service station or a fish market. I'm glad I chose the fish market.
So are thousands of people in Hawaii, especially during the holidays! Did you have an idea that poke would become such a popular and diverse food? You know, growing up we didn't really have poke, but it was becoming real popular and I did think that it would have a great future in Hawaii. But we had no idea that it would become this popular.
You've built Tanioka's into such a recognizable brand. Do you have plans to expand to other areas of the Islands? We originally wanted to open stores every year, but we quickly realized that it wasn't fun running from store to store, and while we did want to create a brand, we wanted it to be one based on quality foods served with a friendly smile. If we can do that then, yes, we may expand or franchise.
Do you cook at home? No. And in the store, Lynn is the one who finalizes all of our recipes. Whether it's fried chicken or plate lunches or salads, she has the final say on pretty much everything.
If people are coming to Tanioka's for the first time, what should they try? Limu poke and spicy ahi, and fried chicken and fish patties ... there's so much, really.
What always in your refrigerator? Papaya - I eat it every day. And milk for my grandson and for my Frosted Flakes.
With whom would you most like to have dinner? Well, I know that Lynn would like to have dinner with Oprah Winfrey - so Oprah, Warren Buffett and Michael Jordan would all be dinner guests I would enjoy. But the greatest guest would have to be our Lord and Savior!
Most influential person in your life? That has to be Lynn. We have been married for 37 years, and she has always supported and guided me to become a better person. She has mentored me in both our personal and business relationship with her honest and caring way.
Most Recent Comment(s):