Melanie Boudar

By
.(JavaScript must be enabled to view this email address)
Friday - June 17, 2009
Share
|

Del.icio.us
|

Podcast
|
WineAndDineHawaii.com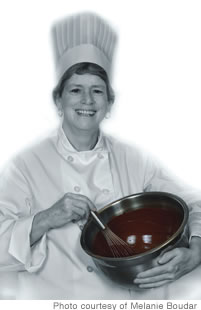 Age: 54
Job title: Owner Sweet Paradise Chocolatier, Kailua.
Where were you born and raised? I was born in New Jersey, but lived most of my life in Albuquerque.
I heard you got into the chocolate-making business almost by accident. I was a gemologist/jewelry designer for 28 years. On one of my diamond-buying trips to Belgium, I really became intrigued with chocolate. Another jeweler enticed me to come to Hawaii to work with black pearls. When he sold his business in 2003 I decided to retire, build a B&B in Volcano and to make chocolate guest amenities. The chocolates were so well-received, I decided to get professionally trained at the CIA in New York. I also traveled to Venezuela and Belize to see the best cacao plantations in the world (Chuao) and learned to make chocolate from the bean with Mayan women in Belize.
Hawaii would seem to have some of the best natural pairings for chocolate. Hawaii is a chef's dream come true! Tropical fruits, spices like vanilla, clove, ginger, wasabi, coffee, green tea, nuts ... it's a treasure trove out there. I love the farmer's markets. I also grow my own Hawaiian chili peppers, mint, lemongrass, basil and citrus.
Do you advocate eating chocolate every day? Of course! And I created a seven-piece box - one a day - so you can ration yourself, if needed.
Does chocolate really make your mood better? Chocolate does have substances that alter mood and mimic the feeling of being in love. It contains flavanols, releases serotonin and has antioxidants. I see people taste chocolate every day, and they leave much happier!
Favorite chocolates at your store? Passion fruit is hands down No. 1. I make it three ways: dark or white chocolate, and a dark that also has mango and passion fruit cognac. The Hawaiian Salt Caramel and Dreamy Caramel also are popular. I did the caramel with kiawe-smoked sea salt recently for a really interesting smoky-sweet taste.
What's your dream chocolate creation, and have you made it yet? Iam always experimenting with flavors and new creations. Although I had to commit 40 flavors to a little brochure, I do many more. How about two-layer dark and white chocolate haupia pie, or Doubleshot - a two-layer milk and dark Waialua coffee with crunchy cacao nibs? I am also experimenting with healthy ingredients like acai and goji berry.
With whom would you most like to enjoy a box of chocolates? My father, who passed away in 2000. He was a good businessman, and had a sweet tooth. As a child, he took me to a specialty chocolate shop in New Jersey on all occasions to buy gifts for our cousins. I know he would be proud.
There are so many books and movies that mention chocolate. "Willy Wonka," "Like Water for Chocolate," "Chocolat," "Consuming Passions." Do you have a favorite? I own all the chocolate movies. Chocolat is definitely my favorite.
Most Recent Comment(s):