Michael Webber

By
.(JavaScript must be enabled to view this email address)
Friday - April 14, 2010
Share
|

Del.icio.us
|

Podcast
|
WineAndDineHawaii.com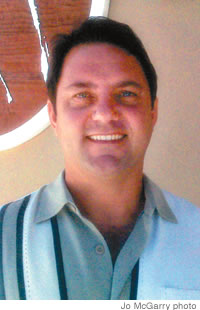 Title: Director Of Operations, Roy's Restaurants, Hawaii.
Where were you born and raised? I was born in Plattsburgh, N.Y. But my father moved around a lot so I lived in many places before coming to Hawaii.
What sparked your interest in the food and beverage industry? I started working, like a lot of people, when I was in college and found an immediate passion for the work.
First job in the industry? Janitor and a bus boy at a place called Mario's in Riverside, Calif. Mario's is a really fantastic family owned Italian restaurant where there's so much passion for food. It was a great experience.
When did you come to Hawaii? In 1996. I continued working in the industry, and it was when I was working on Maui that Chuck Furuya (Hawaii's first master sommelier) called me up to tell me about an opening at Roy's.
What do you remember about starting there? I remember going to meet Rainer (Kumbroch, president of Roy's Hawaii) and we joked about starting a mutual admiration society because we'd both heard good things about each other. He bought me a beer, and it was all downhill after that!
There's a non-corporate feel to Roy's, especially around the management. Surprising really when you think of the size of the organization. What do you think is part of the success? I would say that there is no micromanagement at Roy's. The company is very 'values' driven, so if your values fit with the concept at Roy's then it's likely you will do well and be encouraged to use initiative.
Do you cook at home? Yes, I love to cook at home. If you were coming over for dinner I'd most likely make red beans and rice - the Maui version!
What's always in your fridge? Wine and beer and Best Foods mayonnaise
Who's been inspirational in your life? My parents have been a great source of inspiration for me - and of course Roy Yamaguchi.
Is there anything about you that would surprise people? I love to spear fish. I don't do it as often as I used to - but it's something that I really love.
The four people you'd most like to invite to dinner? My maternal grandfather whom I never met, Julia Child, Ronnie Lott and Richard Marcinko.
Favorite Movie? Joe Versus the Volcano.
It seems that people start working at Roy's and they never leave. It must be the food. It's an amazing place to work. There's a lot of integrity at Roy's, and for me that is something really great to be around.
Most Recent Comment(s):