Mike Longworth

By
.(JavaScript must be enabled to view this email address)
Friday - February 17, 2006
Share
|

Del.icio.us
|

Podcast
|
WineAndDineHawaii.com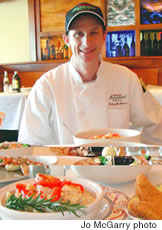 Mike Longworth
Mike Longworth is the executive chef at the newly opened Romano's Macaroni Grill at Ala Moana Center. He talks here about his love of local food, what he learned from Sam Choy, and his occasional craving for a Zippy's chili dog.
Where did you go to school?
I grew up south of Boston and went to school in a little town called Middlesboro, Mass. I had no culinary school or formal training; just worked my way up through the ranks.
Where was your first job in Hawaii?
At the Black Orchid when Randy Schoch was owner. I came to Hawaii to get away from the cold, and I ended up working through Black Orchid, Nick's Fishmarket and then Sam Choy's. I had seven mostly great years with Sam.
Favorite restaurant?
For fine dining, I love Alan Wong's. I think his food is fantastic. I like Roy's, too. But I really love local food, so some of my favorites are Ethel's on
Kalihi Street, LikeLike Drive In, and I like this little place called You Hungry, by the Convention Center - it's got really good food.
Who's had the biggest influence on you so far?
Food-wise, I have to say Sam Choy. He was a big influence. A lot of positive things came from working with him. He taught me to love food - and to love people. This business is not just about food. And Paul Ah Cook - he and I grew together at Sam Choy's.
What's always in your fridge?
Bottled water, Pepsi and leftovers.
Favorite late night snack?
I rarely cook at home. Sometimes I'll have saimin, but mostly it's a Likelike Drive In stop.
Is there anyone you'd love to see come into the restaurant?
Yes, my mom. She's never been to Hawaii. And I guess my brother and my dad, too. I guess it would be nice to let the family see where I'm at now.
Favorite dishes at your favorite restaurants?
At You Hungry it's all local food - and I love that. Once in a while I get a craving for Zippy's chili hot dogs.
What's your favorite dish at Macaroni Grill?
The Grilled Chicken Caesar Calzonetto. I like all the pasta dishes, too, and any of the salads.
Most Recent Comment(s):