Miya Nishimura

By
.(JavaScript must be enabled to view this email address)
Friday - July 01, 2009
Share
|

Del.icio.us
|

Podcast
|
WineAndDineHawaii.com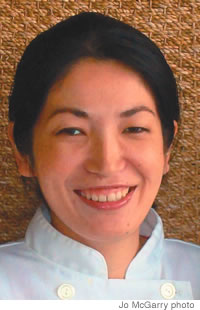 Job Title: Chef de Partie, Alan Wong's Restaurant.
Age: 33
Where were you born and raised?
I was born in Japan and raised in Southern California. I came to Hawaii four years ago.
What started your interest in cooking?
I've always loved eating and I literally grew up in restaurants. My parents took over a restaurant in L.A. when they first moved to the U.S. from Japan, and basically I spent all my time there as a child. They didn't believe in baby sitters, so I grew up around them. One day - bored, I think - I went into the kitchen to watch my dad, and he started to give me small jobs to do. I started cutting vegetables in the way I would eventually learn in school.
So you knew you wanted to work with food?
Yes. I went to culinary school, and then I went to Japan and worked there. I had heard about an internship at Alan Wong's. My instructor in culinary school went to the restaurant and brought us back pictures of her meal there. She said the food was so wonderful. So I looked up the restaurant and decided to apply. I've been here for almost three years now.
With whom would you most like to have dinner?
My grandmother, who passed away last year. She was probably the biggest influence on me, and when I was living in Japan she was a big supporter of me and of everything I was doing.
You work with such wonderful food at Alan Wong's. What's your favorite comfort food?
I like deep-fried, fatty things like chicken karaage, fried chicken, buffalo wings ... all those kind of foods.
What's always in your fridge at home?
Tapatio Mexican hot sauce.
Favorite movie?
The Godfather.
What would you say to someone who was thinking of beginning a culinary career?
It's not all glamour. It's much harder than people think. Once you graduate, you're not going to suddenly be Emeril or be on TV. There's a lot of hard work involved in becoming a chef.
Most Recent Comment(s):