Molly Walker

By
.(JavaScript must be enabled to view this email address)
Friday - March 09, 2007
Share
|

Del.icio.us
|

Podcast
|
WineAndDineHawaii.com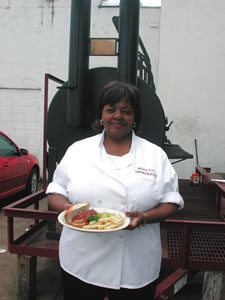 Molly Walker
Molly Walker is well on her way to becoming the queen of comfort food in Hawaii. The appeal of her home-cooked plates of chicken fried steak, barbecued ribs and slow-smoked pulled pork are enough to tempt any taste-buds.
"I think everyone who knows me knows that I am dedicated to bringing a true taste of Texas to Hawaii," says the irrepressible Molly.
It's hard to resist Molly's barbecue. She owns a custom-made smoker that sits outside the restaurant, occasionally sending a puff of sweetly scented barbecue smoke into the air, and she makes some of the greatest barbecued ribs you'll taste.
Occupation:
Owner, Molly's Smokehouse, Wahiawa.
Where were you born and raised?
I was raised in Yoakum, Texas, which is about an hour or so from San Antonio. The population is about 700, and my nine siblings and I were raised on a farm.
How did you come to Hawaii?
My husband is in the military, and we traveled all over. Once we made it to Hawaii we loved it so much we couldn't go back. We tried to leave, but we just couldn't do it! I look back now at the winter weather and I'm so glad to be here.
Who has been one of your greatest influences?
Well, my mother was always a great cook. She was from a family of eight, we have nine siblings, and my father was from a large family too. We all cook at every family gathering, and my mother's dishes were always the most in demand. I learned a lot from her.
Do you have an early "food" memory?
I remember eating hot, buttered toast and drinking hot chocolate with my mother in the kitchen. Her hot chocolate was amazing. I was an early riser, and she would always be up cooking in the kitchen while everyone else was asleep. The two of us would just sit talking in the early morning, drinking hot chocolate. It's a wonderful memory.
Favorite Hawaii restaurants?
Blu Water Grill in Hawaii Kai, Chai's - I love Chai's - Sam Choy's Diamond Head, The Greek Corner on University Avenue ... I just love tasting new food and I love anyone that will cook for me! I'm always looking to taste different things.
Who would you most like to see come through the door of Molly's?
Bobby Flay. I'd love him to walk through the door and see what he thinks of my cooking.
Who's been a mentor in your life?
My father. He came from really humble beginnings and created a very successful life. He's a Christian man who lives to the letter by Christian principles - and through him I have learned that all things are possible through God. He always taught us that nothing comes for free, told us to work hard and to be careful what you ask for, because you might not like it when you get what you want. He's 83 and I still call him for advice. He can always find the right words to help.
Most Recent Comment(s):