Nathan Kina

By
.(JavaScript must be enabled to view this email address)
Friday - October 20, 2006
Share
|

Del.icio.us
|

Podcast
|
WineAndDineHawaii.com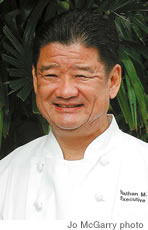 Nathan Kina
Nathan Kina started working at the Pagoda Hotel and Restaurant when it first opened - and after a brief stint away has been there ever since. His menu consists of local favorites such as miso butterfish, crab leg and prime rib buffets, and his famous fried rice.
The secret to Pagoda's fried rice? "We use everything that we have left over from the day before," he says. Good ingredients - and lots of them - make this dish one of the reasons that Pagoda is among the most popular local restaurants in Hawaii.
Title: Executive chef
Age: 53
First professional cooking job?
I started as a student at the Pagoda Floating Restaurant many years ago.
Who has influenced you most in your cooking career?
My father. He was a chef and also a chef instructor at Kapiolani Community College.
Favorite dish at Pagoda?
The misoyaki butterfish is my favorite dish at the restaurant. This recipe has been a specialty at Pagoda for decades.
Favorite dish at another Hawaii restaurant?
I don't have a favorite dish at other restaurants. However, I like eating breakfast at the Hau Tree Lanai.
What's always in your fridge?
I always have Gatorade and water in my refrigerator.
Favorite late-night snack?
I like to eat dried mango or iso peanuts.
If you could make dinner for anyone, whom would you choose?
I would like to cook for a former chef instructor of mine, Raymond Kamikawa. He was my first cooking teacher.
What ingredient can you not live without?
I could not live without rice.
How would you describe your cooking?
I'd say it is local flavor with influences from the Pacific.
How do you relax when you're not in the kitchen?
I like to read food service magazines and periodicals.
Most Recent Comment(s):