Nawai Keko'olani

By
.(JavaScript must be enabled to view this email address)
Friday - October 27, 2006
Share
|

Del.icio.us
|

Podcast
|
WineAndDineHawaii.com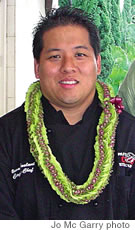 Nawai Keko'olani
Nawai Keko'olani started his culinary career at Ruth's Chris Steak House more than eight years ago. He's got the qualities we love most in our favorite chefs: talent, humility, a good sense of humor and a healthy appreciation of local produce.
Age:32
Title: Regional executive chef, Ruth's Chris Steak House.
Where did you go to school?
Mililani High School.
Culinary training:
I started working at Ruth's Chris about eight years ago. Today I'm responsible for all culinary matters in all of our locations. We're in Honolulu, Lahaina, Wailea, Mauna Lani, and we'll soon have a new location in Waikiki.
What started your interest in the food and beverage world?
Like many chefs, I've always enjoyed cooking and making people happy with the food I create.
What was your first job?
My first job was newspaper delivery - my first taste of the culinary world was working at McDonald's!
Who has influenced you regarding cooking?
The local chefs who defined regional and local cuisine have definitely had a huge influence on my culinary style - as has Emeril Lagasse. And there are many people who've influenced me so far.
What do you cook when you're at home?
Comfort food! I really love to cook everything.
OK, but what's your "show off" dish?
Probably fresh island fish. I love to prepare fresh fish. I like to change our special features daily at Ruth's Chris and try new things. This week, for example, I'll be featuring fresh seared ahi with a diver scallop ragout.
What's your favorite dish on the Ruth's Chris menu?
Obviously it's hard to pick just one, but if I had to, it would be our signature filet topped with asparagus, crab and béarnaise sauce. Oh, and I have to mention the barbecued shrimp appetizer - it's outstanding!
Who makes that incredible banana cream pie?
We make it fresh every day at each restaurant. It's definitely a must-try when you dine at Ruth's Chris.
I know you let a lot of your own creativity into the menu. Give us an idea of some of the things that are different at Ruth's Chris Honolulu compared to Ruth's Chris Chicago.
We use local ingredients and fresh fish, and we try to incorporate as much locally grown produce as we can on the menu. You'll see island-grown tomatoes, onions, greens and fresh seafood on each of our Hawaii menus. You won't find ahi poke at Ruth's Chris New York.
What's always in your fridge?
Chinese food.
Favorite late night snack?
Hurricane popcorn.
How do you relax?
I practice jujitsu whenever I have the chance.
Any tips for those of us who try to grill the perfect steak at home?
Just keep it plain and simple. Buy a great cut of steak and grill it. Add salt and pepper and don't overcook it!
With whom would you most like to have dinner at Ruth's Chris?
Emeril Lagasse and my family.
Favorite Honolulu restaurants when you're not working?
Michel's for brunch and Alan Wong's for dinner.
Most Recent Comment(s):