Nicholas S. Claus

By
.(JavaScript must be enabled to view this email address)
Friday - December 23, 2009
Share
|

Del.icio.us
|

Podcast
|
WineAndDineHawaii.com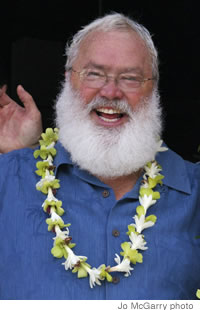 Every year we try to catch Santa Claus as he prepares to make his annual trip to the Islands. Here he shares some secrets of international dining and a few of his favorite Hawaii foods.
Age: I've stopped counting.
Where were you born and raised?
Turkey. But I moved to Lapland a couple of hundred years ago and have been there ever since.
We usually ask you about food trends, as you get to experience a world of food. What's happening this year? I do get a pretty good view of the world's cuisine. The trouble is, it's usually all crammed into one night and a lot of it is sugar-based. I'm seeing an enormous trend in cupcakes, sushi is taking over the world, it seems, and smaller plates seem to be the thing right now.
Where do you like to eat when you're not working? Mrs. Claus and I love to eat at The Old Homestead Restaurant in Lapland. We love the dinner buffet. But we also enjoy a trip to Yuki Sushi in Santa Clara once in a while, and we often pop over to Santa Claus, Ga., where they have a Ruby Tuesday. Oh, and when we're in the mood for Bolivian food, we always go to Buena Mesa in Santa Cruz.
There seems to be a theme to your favorite restaurants. Ho ho ho! Oh, and a favorite Hawaii restaurant is, of course, Tokkuri Tei, where my old friend Santa is the chef. He has a new cookbook out, you know.
Yes, I know. You actually have more of an interest in food than I would have thought. What got you started? Oh, a couple of hundred years ago I decided If I stuck to a diet of milk and cookies things might get a little dull, so Mrs. Claus and I take the time during the quieter summer months to travel a bit and see what's cooking around the world.
Do you have any favorite places in Hawaii? Dozens. Too many to mention, really, but I always try to make a stop at Tanioka's Seafood, if I can. We love the poke. And Liliha Bakery is a must for the cream puffs. Last year, the folks at 3660 On the Rise left out some ahi katsu for us, and that was quite delicious. And if I have time, I try to stop by Murphy's Bar and Grill for an after-hours pint of Guinness once all the presents are done.
What's always in your fridge? We don't exactly need a fridge in Lapland. But outside in the snow we always have a bottle or two of beer, some milk for the reindeer, and for the elves, li hing mui treats that we get in Hawaii. They love those li hing mui sour gummy worms.
With whom would you most like to have dinner? Usually I have breakfast - I'll be at The Outrigger on the Beach this week for breakfast with some little ones - but I suppose if I could choose anyone it would be Barack Obama. I'd like to show him how I stop time for one night, sprinkle a little magic across the world, and generally help to bring a bit of hope and cheer. I figure he might need some of that next year.
Most Recent Comment(s):