Nicholas "Santa" Claus

By
.(JavaScript must be enabled to view this email address)
Friday - December 19, 2008
Share
|

Del.icio.us
|

Podcast
|
WineAndDineHawaii.com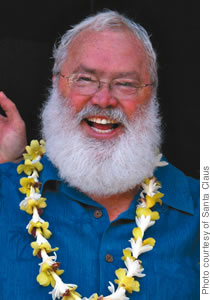 Where were you born and raised?
I was born in a small village in Turkey and then moved to Lapland.
You get to taste more world cuisine than most. What trends do you see right now?
Oh, I think that Japanese chefs are doing amazing things, and there seems to be a really determined pursuit of perfect ingredients worldwide. In Europe, there's a big return to comfort foods, yet at the same time molecular food has taken off there, too. I'm glad to see that locally grown food is a focus around the world.
Can you share a favorite restaurant in Lapland?
Mrs. Claus and I like The Old Homestead Restaurant near the ICE-HOTEL. There's a great dinner buffet and roaring fire. We've been dining there since it opened in 1786.
How do you manage to maintain your weight on a diet of primarily milk and cookies?
I can't get into the details, but it's a similar system to the one that enables me to fly around the world in one night delivering toys. I suppose we should market it, but who has the time?
Have you noticed any changes in food trends over the years?
Well, we do see a lot more people putting out healthier cookies, lowfat milk, energy bars for the elves, greens for Rudolph, that sort of thing. There's been a big swing toward healthy eating, I suppose, and it's thrust upon us. Personally, I enjoyed the '50s when we were more likely to get eggnog and a fat cigar on our visits.
Anything you don't particularly like to see on Christmas Eve?
I'm not big on cake. All those crumbly bits get in my beard. Give me some smoked fish or sushi any day. Rudolph does love carrots, though, as they make a nice change from lichen.
We hear that you vacation in Honolulu right after Christmas. Any favorite food spots?
Yes, we usually stay for a week at The Kahala to unwind a bit. I do a "story time" and an afternoon tea there a few days before the big night, so the hotel extends a welcome to Mrs. Claus and I. We like Hoku's for our Christmas Day brunch. Roy's is a favorite, and I always look forward to my annual glass of Guinness at Murphy's Bar.
Other than that, we like to keep it pretty low key. Tokkuri Tei is a favorite too - my namesake Santa (Miyoshi) is the chef. It's always nice to have a chat with another Santa.
What's always in your fridge?
We don't really have a fridge. The elves put our food outside in the snow and it usually stays fresh until spring.
Most Recent Comment(s):