Nico Chaize

By
.(JavaScript must be enabled to view this email address)
Friday - September 05, 2008
Share
|

Del.icio.us
|

Podcast
|
WineAndDineHawaii.com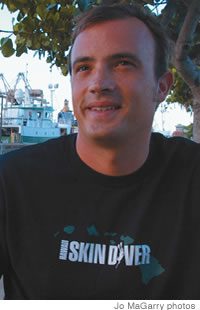 Nico Chaize is the chef/owner of Nico's at Pier 38, the dockside restaurant in Honolulu's growing fishing village. His location within yards of the United Fishing Agency building means he serves the freshest fish in town.
Where were you born and raised?
Lyon, France.
What brought you to Hawaii?
My wife. She was born and raised here, and her family is all here. I was working as a chef in Los Angeles when we met, and we came to Hawaii in 1998. I fell in love with Hawaii the first time I came here, so I set out to find a job.
What was your first restaurant job here?
Haleiwa Joe's on the North Shore was my first job, and then I went to work at Michel's at the Colony Surf.
Any mentors who've helped you along your way?
Chef Hardy from Michel's has been a huge influence on me. He does a lot of French cooking, but I like that he puts local ingredients in everything he does. Every dish at Michel's has some local ingredient in it.
Where do you like to eat?
On our lanai at home (laughs). It's the best restaurant.
So you like to cook at home?
Yes, and my wife does too. We like to cook together.
What's a favorite dinner dish?
Rack of lamb coated with Big Island goat cheese and baked, then served with a red pepper coulis.
What's always in your fridge?
Beer! And good cheese.
Who'd you most like to see come to Nico's for lunch?
Mario Batali. I'd really like to meet him. I think that would be fun.
What's the most popular dish at Nico's?
The Furikake Ahi - from day one we've sold about 150 plates each day. And the fresh catch of the day is a close second.
Do you think you're the luckiest chef in Hawaii?
Yes, I really do. It's strange, too, because in Lyon I worked in a restaurant that was next to the slaughterhouse and we used to cook simple foods: bread, potato, meat and salad with a glass of wine. It was so simple. Now in Hawaii, I'm in almost the same situation, but with fish. We just take the freshest ingredients and serve them simply. I love the water, boats and fishing. It's kind of a dream to be here in this location.
Nico's, Pier 38 1133 N. Nimitz Hwy. 540-1377
Most Recent Comment(s):